The Vibrator of the Future Is Here — And Women Should Be Excited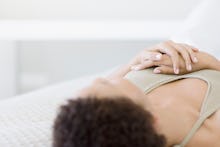 When it comes to sex, female self-pleasure often gets swept under the rug. 
According to data from the 2009 National Survey of Sexual Health and Behavior analyzed by FiveThirtyEight, only 7.9% of women ages 25 to 29 masturbate two to three times a week, while 23.4% of men do. Which means women aren't enjoying the countless benefits of self-pleasure as much as they should be. 
For two entrepreneurs from UC Berkeley, it's time that changed.
Liz Klinger and James Wang are the cocreators of SmartBod, a smart vibrator that adapts to a woman's physiological reactions and provides shareable data tracking. In believing that true pleasure is only a conversation away, the pair have developed their new technology to encourage women's curiosity about themselves and each other.
"Like many women, I had a lot of anxieties and questions around sexuality and no one to talk about it with," Klinger told Mic. "This inspired me to make a better vibrator that can make the journey of learning about your own body less frustrating, lonely and difficult."
Sharing leads to self-caring: Designed like a wearable fitness device, the SmartBod is a silicone vibrator linked to an app that tracks pleasure using internal sensors. Charting arousal and orgasms, the device will be able to learn what a woman likes, detect meaningful trends and make suggestions from the data. 
"We provide aggregated stats that help women baseline themselves and see the wide spectrum of 'normality,'" Klinger told Mic. In an age obsessed with data mining, Klinger and Wang are aiming to make the FitBit for female pleasure — but it's about understanding our bodies, not competition.
In making the data shareable, SmartBod is addressing a persistent problem: women's hesitance to talk openly about self-pleasure. "Females reported more communication overall than did males on all [sex] topics, except for masturbation, which males reported discussing more frequently than did females," found one Pennsylvania State University study, an outcome that's not the least bit surprising.
But talking openly about pleasure is crucial. "Even simple information, like how long it generally takes for you to orgasm or when you feel the most aroused, can help you better understand and take control of your sex life," Klinger said. 
That information may also prove helpful for partners to visualize each other's differences and desires. According to Wang, speaking to UC Berkeley's California Magazine, "One beta tester was able to talk to her partner and say, 'Look, here's data. We should have foreplay for this long.'"
Coming to a nightstand near you: The Berkeley startup has seen an overwhelmingly positive response from their beta testers, including women eager to finally ask the questions they've kept bottled up for years. With a debut at last year's South by Southwest, early funding from the Foundry and a crowdfunding campaign set for later this year, the SmartBod might be coming to bedside tables as early as 2016.
The SmartBod is just another in a recent series of exciting tech enterprises aimed at female pleasure, like the kGoal, HappyPlayTime and the Mod. If women's orgasms are still one of the biggest mysteries about sex for both men and women, products like SmartBod will only help to stop the shaming, let us lie back and enjoy ourselves.
h/t Bustle