Kendrick Lamar Just Released a New Album By Surprise — And It's Incredible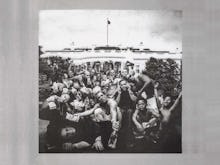 It's been nearly two and half years since Kendrick Lamar's good kid, m.A.A.d. city changed our understanding of what a hip-hop album could do. It was so good that it seemed impossible to beat.
But in the wee hours of Monday morning, Lamar released To Pimp a Butterfly by surprise, a whole week ahead of its release date. The hype for this album has been extraordinary. The music is even better.
According to Billboard, the release may have been accidental. While it's not yet available under Lamar's Spotify profile, it is searchable by album name on the service. Listeners who seek it out will find a record deeply indebted to traditionally black musical styles like jazz and funk. It merges these styles with Lamar's signature flow seamlessly. The album brims with fascinating interludes, impossibly funky basslines and some of the most intricate rhyming Lamar has ever offered.
His biggest fans from across the music world are rightfully in shock:
Timeless: "Sometimes I go into the studio and study music," Lamar told Rolling Stone. "Just sit in there and vibe out to music that's not really of the [era] — Marvin Gaye or something like that. I haven't been listening to a lot of the music that's out right now. You can get influenced by it."
His beats reflect that studious listening: Many have a classic 1970s soul sound, approaching Curtis Mayfield levels of complexity and feel. Yet lyrically, he's tackling some of the most pressing themes of the day. His previous releases have taken penetrating looks at racism, but this album dives to new depths of scrutiny. The album's second single, "The Blacker the Berry," looks at both the structuralist arguments about racism — things like the way our justice system is six times more likely to incarcerate black than white men — and culturalist ones — how Lamar feels the black community acts. These issues of racism, exploitation and identity weave throughout the album's 16 brilliant tracks. Across it all, Lamar puzzles out the responsibility of public figures to affect real change in these areas.
To Pimp a Butterfly is a challenging listen that will undoubtedly take listeners days or months to unpack. But this is exactly the kind of art we've come to expect from Lamar. The album should provide just the vital and unforgiving conversation-starter our country needs right now. At the very least, it proves that Kendrick Lamar is one of the most fiercely creative rappers of all time.
March 16, 2015, 12:15 PM: This post has been updated.