Watch Serena Williams Return After 14 Years to a Tournament Where She Faced Discrimination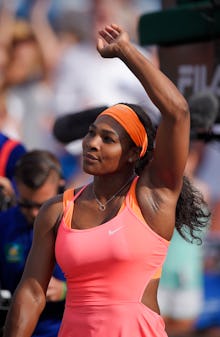 Serena Williams is widely known as one of the greatest women's tennis players of all time. Yet she hardly received the respect she deserved at the 2001 Indian Wells tennis tournament. Williams faced hostile taunts and boos from spectators during her semifinal match, where she had been scheduled to play against her older sister, Venus, until the elder Williams pulled out due to injury. Her father, whom some accused of rigging the match between the sisters, also claimed to have been called racial slurs. 
"The under­current of racism was painful, confusing and unfair," Williams wrote in a recent column for Time. "In a game I loved with all my heart, at one of my most cherished tournaments, I suddenly felt unwelcome, alone and afraid."
On Friday, Williams returned to the tournament for the first time in 14 years. This time, instead of heckles, she was greeted with a more appropriate standing ovation, according to USA Today. And though the match was clearly emotional for the athlete, Williams emerged victorious and has since gone through to the final 16 at the tournament. 
Williams triumph sent a powerful message to others to never let ignorance and discrimination stand in their way.
"I felt like I made the right decision (to come back) and I knew I wanted to do it," Williams said after the match, according to NPR. But after hearing fans shout words of support, she added, "That's when I felt it was the right thing."
Williams had originally announced her decision to return in a video released in February. In the video, she acknowledged that while she "lost a piece" of herself during the 2001 tournament, which she called "one of the darkest moments of [her] career," she chose to return this year because she no longer wants "to let a single, unfortunate incident overshadow all the great memories that my family has created there."
Williams is hardly the first athlete to face discrimination, but her courageous and triumphant return to a place where she was disrespected serves as an example to those who have faced similar treatment, as well as to anyone who has faced discrimination. By choosing to forgive and refusing to let others' ignorance or hatred stand in her way, Williams has demonstrated that in the end, nothing can keep a talented, persistent individual from the success they deserve.