The Demise of 'Fashion Police' Signals the Long-Awaited Demise of "Tear-Down" Culture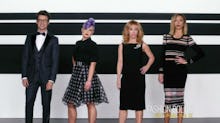 The time has come to cancel Fashion Police, and not just because the red carpet rundown show is falling apart at the seams.
E!'s anchor fashion show has always been a niche program — dissecting dresses and slamming starlets's choice of wardrobe was never going to be mass entertainment. But Fashion Police's venomous takedowns were once much more a part of this country's DNA. Now it looks like a relic in a media world that's turned its attention toward affirmation and away from tearing people down.
Fashion Police's obituary started writing itself last week. Rumors flew that E! was looking to cancel the show after stars Kelly Osbourne and Kathy Griffin quit, though TMZ refuted those rumors this past weekend. So far, E! hasn't made an official statement one way or another, outside of confirming Osbourne and Griffin's departures.
The show's cast is now half of what it was less than a month ago. Only longtime E! staple Giuliana Rancic and former The Rachel Zoe Project star Brad Goreski remain on the panel. Rancic, of course, is one source of the show's current troubles, after a comment about Oscars attendee Zendaya's hair went viral and drew outrage from all corners. (Important to note: Someone wrote the comment for Rancic, so more than one person shares the blame for this. she is not solely at fault.) 
'Fashion Police' is a relic in a media world now more about affirmation than tearing people down.
This is just the straw that broke the camel's back. Fashion Police has been on its way to irrelevance for some time. Before, it was led by Joan Rivers, at the time a living legend. Her status as a comedy great shielded the series as the country turned from cynicism to optimism. American Idol and sharp-tongued Simon Cowell were out; The Voice and cuddly Blake Shelton came in. Smarm became the definitive emotion for audiences, while snark was brutal and harsh. Gawker lost the zeitgeist to BuzzFeed. Yet Fashion Police stuck around, because Rivers stuck around.
Without Rivers, the show has become unmoored. Griffin's resignation from the show explicitly called out how it added "to a culture of unattainable perfectionism and intolerance towards difference," even noting there are other sections of culture worth taking to task without focusing on body-shaming.
More than that, the focus on fashion on the red carpet has come under criticism from celebrities and observers alike. The #AskHerMore campaign, which garnered a great deal of attention at the Oscars last month, is designed to get interviewers like Rancic to ask questions not related to fashion or bodies. Fashion Police is the last bastion of red carpet fashion criticism left on TV.
There could come a time when a Fashion Police-esque show would be needed again. National demeanor ebbs and flows; the current moment of optimism and affirmation will not last forever. But for the moment, the time has come to cancel the show and redefine fashion coverage on TV. What form that takes — and who will lead that charge, like Rivers before them — remains undefined, but if E! abandons revamping Fashion Police, it has the chance to be a pioneer.