Powerful Photos Show the Devastation a Major Cyclone Released on Vanuatu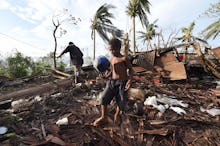 The Pacific island nation of Vanuatu was ravaged Saturday by Cyclone Pam that left 90% of the buildings in the capital of Port Vila damaged or destroyed, according to a report from Al Jazeera.
Vanuatu's president, Baldwin Lonsdale, was also quoted as saying that the nation's development had been "wiped out." So far 24 fatalities have been reported, but that number could rise as more information becomes available in the coming days.
According to relief workers cited in local New Zealand media, electricity is out in the capital's hospital, schools are closed and clean water is running out.
Due to the extent of the devastation and the country's geographic isolation, receiving reliable on-the-ground updates is difficult. Vanuatu, an archipelago consisting of around 80 islands, was still working on restoring communications to its more remote areas as of Monday. The nation has no embassy in Washington D.C. and its New York-based mission to the United Nations told Mic there was very little new information they could offer as of early Monday afternoon.
If the destruction is truly as complete as Lonsdale and initial reports indicate, it will likely take a terrible toll on the nation's economy, 40% of which is tourism-based. According to CNN, aid began to arrive around noon on Sunday with considerably more expected in the coming days.
"It's like a bomb has gone through," journalist Michael McLennan, who lives in Port Vila, told CNN. "It's really quite apocalyptic."
Lonsdale was quoted in Agence France-Presse as saying that, "Climate change is contributing to the disaster in Vanuatu." While it is impossible to determine a conclusive link between climate change and Cyclone Pam, what is certain is that rising waters will adversely affect many countries that played little role in causing climate change.
Parts of Bangladesh stand to be completely inundated by rising sea levels in the coming years, while Tuvalu, a Vanuatu island neighbor that was also devastated by Cyclone Pam, is reportedly sinking into the ocean.
The Australian Red Cross and other aid agencies issued an appeal for donations to victims of the cyclone over social media. 
These smaller nations rarely make headlines, but that does not make their struggles or suffering any less real or important. As oceans rise and storms worsen, steps will have to be taken to ensure the security of those most vulnerable.