10 Songs That Prove Irish Music Is the Original Protest Music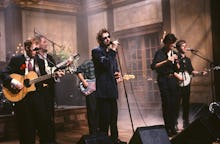 The story of the Irish is a story of conquest, war and, most importantly, protest. It's a story that has been told through one of the richest existing musical traditions. In 1169, Anglo-Norman colonists landed on the island, beginning the centuries-long cycle of Irish persecution and massacre. From 1691, when the English Protestants took control of Catholic Ireland, to 1916, when the Irish stormed the British General Post Office to claim the formation of the Irish republic, to 1972, when "Bloody Sunday" launched direct British rule of Northern Ireland, the Irish have had no end of things to protest.
Through all that time, though, the Irish used their musical heritage to maintain autonomy during periods of struggle. Musicologist Helen O'Shea wrote that the Irish held firmly to authentically old Irish music in order to keep their national identity together. "The greatest achievement of the Irish people is their music," Irish poet Thomas Davis wrote in the 19th century. "Music is the first faculty of the Irish, and scarcely anything has such power for good over them."
That remains as true in 2015 as it was in 1855, when George Petrie published The Petrie Collection of the Ancient Music of Ireland. "There's a tradition of protest in many, many world cultures," Irish music scholar Mick Moloney told Mic. "And there's a long tradition of Irish protest songs. There are literally thousands of songs, and they all were on the theme of resisting injustice." From the ancients to modern Irish musicians, one thread remains: the indomitable music of protest. That is the unifying theme of Irish music — something American music would do well to recognize today. Here are the 10 modern songs that prove just how deep that tradition runs:
"Rising of the Moon" by the Clancy Brothers
The Clancy Brothers were at the forefront of the Irish folk music revival of the 1950's and '60s. According to the New York Daily News, "It was the Clancy Brothers ... who [inspired] other young Irish groups like the Dubliners and the Wolfe Tones, who in turn spawned countless others, until Ireland once again had a confident enough musical bedrock to support such lasting heavyweights as the Chieftains, the Pogues and U2." This song, "Rising of the Moon," is an old Irish ballad about rebellion and defeat. A wealth of modern songs stands on its shoulders.
"Give Ireland Back to the Irish" by Wings
In 1972, the lead guitarist in Paul McCartney's new band Wings wrote this protest song in response to Bloody Sunday. Henry McCullough was Northern Irish and rushed the song out the month following the event. Upon the song's release, the U.K. banned "Give Ireland Back to the Irish," and the song was met with mixed and inflammatory reviews. It was, however, a resounding success in Spain. "I'm very proud of that," McCartney said, according to the BBC. "Basque separatists loved it."
"Banana Republic" by the Boomtown Rats
Famous for his vocal protests and often-meandering rants, lead singer and Irish native Bob Geldof wrote this track for his short-lived band the Boomtown Rats. The song, unlike the others on this list, was a scathing rebuke of Ireland; Geldof probably wrote it because he was banned from playing in his home country after he denounced nationalism on live television. It was a classic example of music's function as a tool for political expression throughout Ireland's history.
"Invisible Sun" by The Police
In 1981, English band the Police released this song, a tribute to the Irish. Lead singer Sting wrote the song while he was living in Ireland, when there were hunger strikes in Belfast. During the strikes, Irish Republican Army leader Bobby Sands died of starvation in a British prison. "I wanted to write about that, but I wanted to show some light at the end of the tunnel," Sting told Revolver. "I do think there has to be an 'invisible sun.' You can't always see it, but there has to be something radiating light into our lives."
"Sunday Bloody Sunday" by U2
Perhaps the most famous of all Irish rock bands, U2 wrote "Sunday Bloody Sunday" a decade after the violent events of 1972. "On that day, Jan. 30, 1972, British soldiers fired on a civil rights march in the majority Catholic area of the Bogside in Derry, killing 14 protesters," lead singer Bono wrote in an op-ed for the New York Times. Before playing the song live at the US Festival in 1983, Bono announced, "This is not a rebel song." They were so concerned about the violence of the disputes that they advocated for tolerance in part to protect their families. The band was steeped in the tradition of Irish protest — just listen to their "Van Diemen's Land."
"Streets of Sorrow/Birmingham Six" by the Pogues
The Pogues, according to Moloney, "were really the people who created Irish punk rock. The Dropkick Murphys are their direct descendants." This song, one of the band's most controversial, was written in reference to the Birmingham Six, six men who were sentenced to life in prison for allegedly bombing a pub in Birmingham, England. Their sentences were later overturned. According to the Pogues' accordion player James Fearnley, the song "made no bones about declaring that those convicted of the 1974 pub bombings had been 'picked up and tortured and framed' and were still in prison 'for being Irish in the wrong place and at the wrong time.'"
"Belfast Child" by Simple Minds
To be clear, Simple Minds is a Scottish band. But this 1989 song is about a town in Northern Ireland. Lead singer Jim Kerr wrote "Belfast Child" after the Enniskillen bombing in Belfast. According to the BBC, 11 people died and at least 63 were injured in an explosion on Remembrance Day in 1987. "In the second part of 'Belfast Child,' I'm trying to relate to people in Northern Ireland who've also lost. I'm trying to talk about the madness and sadness and emptiness," Kerr told Q magazine. "I first heard the melody a few days after Enniskillen and, like everybody when you see the images, I was just sick." It may have originated outside of Ireland, but it is a staple of the music — a candid record of true brutality.
"This Is a Rebel Song" by Sinead O'Connor
In case you ever wondered what Sinead O'Connor thought of "Sunday Bloody Sunday," this is thought to be her response. Though the 1997 song seems to call out U2 directly, it's actually a level-headed protest song from a notoriously incendiary figure. "This isn't an angry rant," NME wrote in a review of the song. "Twenty years ago, the civil rights movement in Northern Ireland attempted to protest peacefully against what was virtually an apartheid state. They got their faces smashed, their skulls caved in and their homes burnt down by loyalist mobs led by [Royal Ulster Constabulary] officers. Ethnic cleansing, anybody?" Surprisingly, O'Connor didn't actually join the Irish nationalist party until 2014. She was probably too busy ripping up pictures of the pope.
"Dublin Town" by Damien Dempsey
Irish singer-songwriter Damien Dempsey released this song in 1997 in response to Ireland's "Celtic Tiger" phase. The Celtic Tiger was a period of unprecedented economic growth, and Dempsey's song was a kind of prediction: "Your greed is gonna leave you soulless," he sings. Sure enough, by 2002, the bubble had burst. Like the best Irish protest songs, it was motivated by a clear love for country: "It's a love song because I love my people," Dempsey sings.
"Let's Do the Things We Normally Do" by Dido
English singer-songwriter (of Irish descent) Dido wrote this song, which uses lyrics from the Irish folk song "The Men Behind the Wire." "Armored cars and tanks / And guns came to take away our sons," she sings. A Northern Irish member of parliament slammed Dido for advocating for Irish republicanism.
"She must know it was written about people who were murderers, arsonists and terrorists. She should clarify her position so that her fans and the wider public knows where she stands on these things," said Gregory Campbell, the MP for East Londonderry, according to NME. Even though those conflicts are by and large in the past, there's an eternal Irish history that lives in that music. That's what it's there for.