These Actual Text Messages from San Francisco Cops Reveal the Scope of Police Racism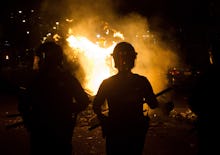 Stemming from a collection of legal documents filed in a California federal court on Friday, the San Francisco Police Department is investigating a series of text message exchanges between former SFPD Sgt. Ian Furminger and four other officers, the San Francisco Chronicle reported. They included the following phrases: "Yeah we burn the cross on the field! Then we celebrate Whitemas," "white power" and "Cross burning lowers blood pressure! I did the test myself!" 
They also featured an exchange in which one officer responded, "Get ur pocket gun. Keep it available in case the monkey returns to his roots. Its not against the law to put an animal down," after learning that the husband of an officer's wife's friend was black.  
A deeper look at the legal documents reveals just how vile the messages, which were sent in 2011 and 2012, are: 
The conversations, first reported by the San Francisco Chronicle, were revealed when prosecutors filed a motion to keep Furminger under lock and key while he appealed a December conviction for corruption and fraud. They described him as a "virulent racist and homophobe," adding that "it is shocking and appalling to find a police officer in San Francisco who would give voice to [these views]."
The names of the other four officers were not confirmed by police, but the San Francisco Chronicle identified them as Michael Robison, Noel Schwab, Rain Daugherty and Michael Celis.
The public revelation of the exchanges drew a swift response from the police department. In a statement to Mic, Albie Esparza, a public information officer with the department, condemned the behavior. 
"The SFPD is investigating officers for extreme bias which has no place in the police department," he said. "Four officers were reassigned some time ago while the investigation into these allegations is underway. Any investigation that reveals that an officer is biased will be forwarded to the Police Commission with a recommendation from the chief for termination."
San Francisco Police Chief Greg Suhr had similar sentiments. "It makes me sick to my stomach to even have these guys around," he told the Chronicle. "You cannot unring the bell on these text messages."
A disturbing trend. While an attorney for Robison and Chelis argued that "these were texts from one private phone to another, intended for an audience of one person," that doesn't stand up when one considers that these men were police officers who were duty-bound to protect the communities they served — communities that no doubt include people of color.
The San Francisco Chronicle reported that the four other officers had all been on the force for at least 15 years; Robison, the longest tenured, had been an officer for 23 years. Attitudes like those found in the text messages don't pop up overnight, which suggests these men were carrying around these views for a significant part of their careers.
For some, this raises the question of how exactly these ideas manifested.
"While these texts are extremely troubling, what is perhaps more worrisome is that we do not have a clear picture of how these prejudices actually play out on our streets," Chauncee Smith, racial justice advocate with the ACLU of California's Center for Advocacy and Policy, told Mic. "Do these attitudes stop with texts? Or are they part of a larger problem having to do with how we police communities of color and other marginalized communities?"
As ThinkProgress pointed out, "African-Americans make up just 6% of San Francisco's population, but are seven times more likely to be arrested than whites, a California Department of Justice report found in 2012," which implies that fears such as Smith's are not unfounded.
The texts messages fit into a larger conversation. In early March, the Department of Justice released the findings of its investigation into the Ferguson (Missouri) Police Department. The report was scathing, and concluded that the "police and municipal court practices both reflect and exacerbate existing racial bias, including racial stereotypes."
The same kind of entrenched racism found in Ferguson extends far beyond Missouri's borders. As some were quick to note, the Department of Justice's findings — while certainly damning with regards to the Ferguson Police Department — should be taken as a symptom of a larger problem, and not as an isolated plague. 
Issues of racial bias in American law enforcement are nothing new. Bigotry and racism can be found in many corners of the country — not just Ferguson or San Francisco. These police departments are taking some steps to combat the problems at hand, but they're only a small sampling of a much broader issue.