In 8 Tweets, Kanye West Takes Couple Oversharing To the Next Level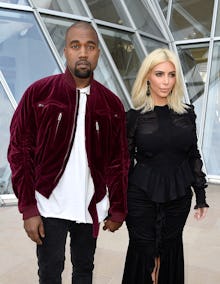 Kanye West is in love, and he wants to make sure you know about it.
Proving that he is, once and for all, the king of the TMI pronouncement, West took to Twitter today to declare his love for his wife in the most public way possible. To celebrate Kim Kardashian's 30 million follower milestone, the rapper posted a series of eight nude shots of her, accompanied by encouraging captions like, "I'M SO LUCKY," "CONGRATS BABY ON THE SHOW PREMIERE LAST NIGHT" and (confusingly) "SWISH!!!"
According to Cosmopolitan, the nearly-NSFW stills come from a photo shoot from the upcoming season of Keeping Up With the Kardashians, in which Kardashian poses nude to celebrate her body before a second pregnancy. As he made abundantly clear, West is a big fan.
You might find Yeezy's exuberance more than a little irritating. But West is just taking part in a years-old tradition of social media bragging that, despite whatever clogs your feed, comes with good intentions and reflects well on the relationship. A recent study from the University of Houston and Pennsylvania State University found that a high volume of positive relationship-centric posts on social media often correlates with high relationship satisfaction. The overshare might be the new grand gesture.
But no matter how many "SWISH!!" posts we make, it doesn't mean couples' public declarations translate as genuine to the people scanning their feeds. Other studies show that excessively personal and revealing social media accounts (ahem, nude photos of your wife) read as unlikable and inappropriate. 
Chances are, Kanye doesn't really care. Though they can be annoying, we might have to get over being bitter about sickly sweet relationship posts, from celebrities and otherwise. Chances are, the couple posting is actually over the moon.