Meet the Finnish Punk Band Changing the Global Understanding of Disability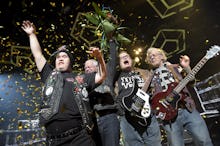 Punk rock has always sought to speak for the underdog — to challenge our notions of what normal means. Finnish punk band Pertti Kurikan Nimipäivät is putting a bold new spin on that idea. All four members of PKN have learning disabilities, but they're touring the world and playing all over Europe and North America. Recently they won the honor of representing Finland in the upcoming annual Eurovision contest. And they're set to tear down everything audiences think they know about the abilities of disabled people.
Their music is classic punk — raw and unapologetic. It challenges prejudice much like last year's Eurovision winner, Conchita Wurst, did. She became a hero in queer communities with her powerful statements on gender fluidity and her overwhelming talent. Likewise, PKN is doing the same for disabled people all with a true punk spirit.
"It's punk rock – the same style that we have always been," Sami Helle, the band's bassist, told the Guardian. "We're not going to change for nobody, just be our own selves." That means writing songs cursing out pedicurists, giving a middle finger to group homes and institutions and having a ton of sloppy fun doing it.
Their backstory: PKN formed in 2009 at a workshop arranged by Lyhty, a Finnish nonprofit organization that serves adults with intellectual disabilities by providing housing and education services. The average age of the band members hovers around 40 (lead guitarist and songwriter Pertti Kurikka finds inspiration in his 30 years of loving punk rock). The year they met, PKN released a demo of their song "Kallioon!" which earned them a cult following and their first record deal. According to the band, the fan base they built never thought twice about their disability.
"It doesn't matter that we were mentally handicapped. We were part of a group," Helle told Consequence of Sound. "We can do everything in punk rock. They do not discriminate us at all. We have fun with everybody."
The band's rise out of group homes and institutions to the heart of the Finland punk circuit was the subject of a 2012 documentary, The Punk Syndrome. It's "about one retard who sings punk and three retards who play punk," as lead singer Kari Aalto describes it. "You should watch it and think about whether you should hate disabled people or love and respect them."
Respect them. Unfortunately, as Aalto implies, in 2015, disabled people still do not get the love and respect they deserve. Though the band explicitly claims they're "not political," their whole existence makes for a powerful political statement. According to Finnish Music Quarterly, "the lives of disabled people are more dependent on vagaries of politics than the average person's."
As of 2008, Finland had the highest proportion of institutionalized people in Scandinavia, according to the Nordic Network on Disability Research. A diagnosis of intellectual disability can be a damning stereotype: It's frequently overused as a blanket diagnosis that causes people to overlook aspects of a disabled person's humanity. According to Katherine Runswick-Cole and Dan Goodley for the Nordic Network on Disability Research, discussion of disabled peoples lives frequently overlooks basic human considerations, such as "living in families" or "having choice and control."
That's what PKN is tearing apart. On their breakout hit "Kallioon!" they sing, ''I don't want to live in any group home, I don't want to live in an institution, I want to live in Kallio." Aalto sings, "I want some respect, human dignity in life." The band has insisted in multiple interviews that they "are not that different from everybody else — just normal guys with a mental handicap," as Helle told the Guardian. Perhaps the visibility they will get competing in Eurovision will finally prove the truth of this.
True integrity: They're in the competition because they make truly great punk music — not because they're disabled. PKN wants no votes out of pity. They want to be recognized for their music and hopefully inspire other people with disabilities to go out and achieve.
"People have to look at what we've done and learn from it," Aalto told Finnish Music Quarterly. "They need to get out there and do things they love. And they need to show their parents and others that Pertti Kurikan Nimipäivät has proved that you need to be alert and brave."
Eurovision better prepare itself when the next round of semifinals begins on May 19. At least one act knows how to make music that truly matters.