Oregon Just Became the First State in the Nation With Automatic Voter Registration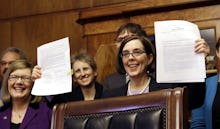 As state legislators across the country continue to whip up support for harsh new voting restrictions, lawmakers in Oregon are taking a different path. On Monday, Gov. Kate Brown (D) signed into law new legislation that makes it the most voter-friendly state in the nation. 
The bill will automatically enroll all eligible voters who obtain an Oregon driver's license or renew their current registration. The law will be retroactive to 2013, meaning it could bring in as many as 300,000 new voters, according to Reuters.
"Oregon is a true leader in accessibility to voting," Gov. Brown said after signing the bill. "I challenge other states to examine their policies and find ways to ensure there are as few barriers as possible in the way of a citizen's right to vote."
Brown, who made history in February when she became the country's first openly bisexual governor, first proposed the bill during her time as Oregon's secretary of state. She was elevated to her current office after former Gov. John Kitzhaber (D) resigned amid a corruption scandal.
Standing out in a crowd: Following their contact with the DMV, eligible Oregonians will have 21 days to "opt-out" of being registered to vote, MSNBC reports. If they do nothing, their names will be automatically added to the state's voter rolls. As more states go to increasingly desperate lengths to make it more difficult to get to the polls, Oregon's decision is a serious step forward for voting rights advocates.
The broad, backward national trend has accelerated since the Supreme Court's 2013 decision to strike down a key provision of the Voting Rights Act of 1965. 
"Since 2011, every state but one has considered legislation that would make it harder for many eligible citizens to vote, and half the states passed new voting restrictions," Wendy Weiser, from NYU Law School's Brennan Center for Justice, wrote earlier this month. "By the 2014 election, after lawsuits and repeal efforts, voters in 21 states faced tougher voting rules than they did in 2010."
On March 7, during ceremonies to commemorate the 50th anniversary of the "Bloody Sunday" civil rights marches in Selma, Alabama, President Barack Obama condemned those efforts and challenged lawmakers  to act.
"One hundred members of Congress have come here today to honor people who were willing to die for the right it protects," he told thousands gathered in Selma. "If we want to honor this day, let these hundred go back to Washington, and gather four hundred more, and together, pledge to make it their mission to restore the law this year."
While federal intervention is unlikely as long as Republicans control both chambers of Congress, Monday's action by lawmakers in Oregon could provide inspiration and guidance for state-level responses to what has become a serious threat to one of the most basic rights of millions of Americans.
h/t Huffington Post