Women Can't Talk About Sports on the Internet Without Receiving Threats of Sexual Violence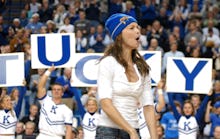 It's March, which means that the fanfare surrounding the wildly popular college basketball tournament  March Madness has hit a fever pitch. For some sports fans, however, the hullaballoo comes with a side of sexual harassment. 
Actress Ashley Judd, who has been active in Hollywood for more than two decades, is also a die-hard University of Kentucky Wildcats fan. While watching her team play the University of Arkansas Razorbacks on Sunday, Judd posted a since-deleted tweet that suggested the Razorbacks were playing dirty — an act that apparently triggered an avalanche of online abuse, much of which was sexual in nature.
Judd then retweeted one of the messages, from a user whose account is no longer active:
But that wasn't all. Other Twitter users piled on, and though they weren't quite as explicit, they still made it abundantly clear that some people see a woman's very presence on the Internet as an open invitation to hurl gendered harassment in her direction.
In an interview with MSNBC's Thomas Roberts on Monday, Judd put her trolls on blast. "The way things happen on social media is so abusive," she said. "Everyone needs to take personal responsibility for what they write and not allow this misinterpretation and shaming culture on social media to persist."
Judd, who is also an active proponent of gender equality, made it abundantly clear that she wasn't going let her harassers get the best of her. During an interview with Today Show correspondent Craig Melvin, she said that she plans on getting law enforcement involved. 
"The amount of gender violence that I experienced is absolutely extraordinary," she told Melvin. "A significant part of my day today [Tuesday] will be spent filing police reports at home about gender violence that's directed at me on social media."
She added that the messages were from "that many people," and that they were "that explicit, that overt."
She has some allies, however. During the Twitterstorm on Sunday, many users came to Judd's defense — including former Red Sox pitcher Curt Schilling, who recently made headlines when he went after Twitter users who directed similarly disturbing tweets at his teenage daughter.
Schilling indicated that he had found identifying information about one of Judd's harassers: 
The fact remains that being on the Internet as woman is dangerous. The tweets directed toward Judd were vulgar, but for women online, they'll likely come as no surprise. 
According to a Pew Research survey from October, women are much more likely to report being stalked or sexually harassed via the internet, and it's even worse for those aged 18-24. "In essence, young women are uniquely likely to experience stalking and sexual harassment, while also not escaping the high rates of other types of harassment common to young people in general," the survey concluded.
Amanda Hess summed up the dynamic for women on the Internet for Pacific Standard in January: 
"On the Internet, women are overpowered and devalued. We don't always think about our online lives in those terms—after all, our days are filled with work to do, friends to keep up with, Netflix to watch. But when anonymous harassers come along—saying they would like to rape us, or cut off our heads, or scrutinize our bodies in public, or shame us for our sexual habits—they serve to remind us in ways both big and small that we can't be at ease online.
Fortunately, Judd is a powerful person. Her celebrity status gives her both a platform and a set of tools that most people don't have at their disposal. But plenty of non-celebrity women face threats similar to Judd's every time they go online — only they do it alone.
h/t Huffington Post