Connecticut Just Cleared the Way for People to Get Their Weed Convictions Erased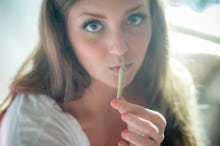 In a ruling that could set off dozens of new legal challenges across the country, the Connecticut Supreme Court said Monday that individuals convicted on low-level marijuana charges before the state decriminalized the drug have the right to get their records wiped clean, the Associated Press reports.
Connecticut decriminalized the possession of less than half an ounce of marijuana in 2011. What had been a misdemeanor charge that could result in prison time was downgraded to a civil infraction, punishable by a ticketed fine ranging from $150 to $500 based on the number of offenses. 
The case before the court now was brought by Nicholas Menditto, a former Manchester and Bolton resident who was convicted on charges of possession in 2009, two years before Gov. Dannel Malloy signed the decriminalization bill into law. Menditto's lawyers argued that his convictions should be retroactively erased, and the court agreed.
"We conclude that the legislature unambiguously intended to decriminalize possession of less than one-half ounce of marijuana," Justice Carmen Espinosa wrote, explaining the crux of the case in her decision. "The defendant is, therefore, entitled to erasure of the records of his 2009 convictions pursuant to" a state law that guarantees citizens the right to have their records expunged if the offense is subsequently decriminalized. 
Those who qualify — estimated to number in the thousands, according to the AP — can now apply to have their convictions erased.
Who's next? Four states and Washington, D.C., have voted for the full legalization of marijuana. Twenty-three, including Connecticut, have medical markets, according to the AP, and at least a dozen have moved to decriminalize possession of limited amounts of the drug.
As more states change the legal status of marijuana, they're beginning to face court challenges similar to the one in Connecticut.
"Several states have considered legislation that would make it easier for people to seal records or have convictions expunged upon the decriminalization of certain marijuana-related offenses," Mason Tvert, communications director for the Marijuana Policy Project, told Mic in an email. "It appears the process by which states can do it — and the extent to which they might be able to do it — is going to vary from state to state."
In 2014, for example, the second-highest court in Colorado ruled that some criminal convictions that occurred prior to legalization could be tossed out. The state attorney general threatened to appeal that ruling, but has yet to act.
If other states follow the Connecticut Supreme Court's example, millions of Americans could be lining up to have their convictions erased. Between 2001 and 2010, there were more than 8 million arrests for marijuana-related charges, nearly 90% solely for misdemeanor possession, according to the New York Times.
It is unclear how those arrests played out in the courtroom, but for individuals with misdemeanors convictions on their record, the consequences can be disproportionately dire.
Why convictions — even for low-level offenses — are so harmful: A January study from the Drug Policy Alliance found that even low-level marijuana convictions "can lead to a bar on adopting a child in 38 states; revocation of a professional license in 20 states; denial of federal financial aid for a year or more in 28 states; suspension of one's driver's license for six months in 21 states and D.C.; and a ban from public housing for three years in 46 states."
New York City Mayor Bill de Blasio cited similar statistics when he and Police Commissioner William Bratton took steps to lessen that burden last year. The city is among the most high-profile examples of municipal government action to decriminalize and de-stigmatize pot possession. As of late November, the city has ceased arresting most individuals caught holding less than 25 grams. Police officers now issue fines of up $100 for a first offense and $200 for a second, according to NORML. A third bust results in a $250 ticket and 15 days in jail, but no criminal charges.
"Too many New Yorkers without any prior convictions have been arrested for low-level marijuana possession," de Blasio said last year. A conviction "hurts their chances to get a good job, it hurts their chances to get housing, it hurts their chances to qualify to get a student loan. It can literally follow them the rest of their lives."
It can, and it often does. But as we've seen with Connecticut's pioneering decision, there is another, better way forward.