9 Quotes That Prove Amy Schumer Has All the Relationship Advice You'll Ever Need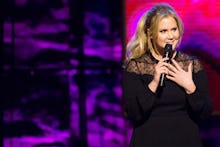 If you want actually useful sex advice, it's gonna get real.
And look no further than Amy Schumer. Schumer is many amazing things: She's an accomplished headlining stand up comedian, creator and host of the Comedy Central sketch show Inside Amy Schumer, and writer and star of the upcoming Judd Apatow-produced film Trainwreck. 
On top of all that, she is also one of the most courageous voices when it comes to being real about sex and relationships.
Schumer isn't just going for the laughs, either. At this week's Trainwreck premier at the South by Southwest festival, she spoke with Entertainment Weekly reporter Danielle Nussbaum about being candid and getting what she wants: "I completely love sex and I don't feel shy about feeling entitled to an orgasm if I'm having sex with somebody."
Given the tremendous influence of the media in our lives, we need more celebrities to publicly address the importance of destigmatizing female pleasure and the uncomfortable realities of the dating world. Luckily for us, we have the brilliant powerhouse Amy Schumer.
On knowing sex and love can come separately
"I don't really have that much of it [sex] and I've been in mostly monogamous relationships. But then in between if I meet someone and I'm attracted to them, I'm gonna have sex with them. ... There's a guy right now I've been texting with, and I really don't see myself having a bathing-suit wedding with him, but I'll probably have sex with him." — A Conversation with Amy Schumer
On being labeled a sex comic
"I think that I get labeled a sex comic just because I'm a woman. Like, a guy could get up here and literally pull his dick out and people would be like, 'He's a thinker.'" — Night of Too Many Stars stand-up special
On the empty meaning of "slut"
"I have moments where I feel promiscuous and moments where I feel really boring like a one-woman-one-man woman. ... I feel like we're all like that. Sometimes I really just do feel like a fucking mess and slutty and out of control. And sometimes I feel like, 'Oh my god, I haven't had sex in months and I'm not looking to and I just want to watch Downton Abbey in bed and make tea for myself.'" — Cosmopolitan
On the double-edged sword of falling in love 
"I was falling in love when I wrote Trainwreck, was scared out of my mind and wasn't even enjoying it. I was feeling sick all the time. It's like being on drugs. It's not even fun falling in love. You don't remember it until you're going through it and then you're like, 'why did I ever want to be in love?' 
It kind of sucks. ... It was really hard, but it was good, it was overwhelming. ... I love love, and I'm very hopeful and was raised on all the fairy tales everyone else had. I just noted that everyone's mom was dead and real princesses get beheaded so I just have a more realistic take on it. "  — A Conversation with Amy Schumer
On the problem with porn 
"I like to watch porn. But I don't like to watch the end of porn, because guess what happens at the end of the rainbow every time? Spoiler alert: he comes on her face. What an amazing choose-your-own-adventure that always ends exactly the same. There's never a twist. ... We don't want to see that because we think about that girl, that poor girl..." — Amy Schumer: Mostly Sex Stuff
On determining your own worth
"I am a woman with thoughts and questions and shit to say. I say if I'm beautiful. I say if I'm strong. You will not determine my story — I will. I will speak and share and fuck and love, and I will never apologize to the frightened millions who resent that they never had it in them to do it. I stand here and I am amazing, for you. Not because of you. I am not who I sleep with. I am not my weight. I am not my mother. I am myself." — 2014 Gloria Awards and Gala
On embracing the awkwardness
"I think it's stranger to me that people are shy about it. Because I know embarrassing sex stuff does happen! People aren't just like, 'Hi, I love you. We're gonna be together forever.' And then no weird noises happen." — Rolling Stone
On the complicated topic of consent
"Most women I know that I'm close to have had a sexual experience that they were really uncomfortable [with]. If it wasn't completely rape, it was something very similar to rape. And so I say it's not all black and white. There's a gray area of rape, and I call it 'grape.' It's the guy you went home with in college, and you said, 'No,' and then he still did it, or maybe you woke up and it was someone you were dating. ...
There's just so many different things that can happen, so it's not always this, 'Well, you're going to jail and that's it.' ... But every girl I know has had some experience that is kind of like 'grape.'" — NPR's Fresh Air
On the double standards of sex talk
"Sex sells ... and I'm a sexual person so I like talking about it. But there's a double standard. Some of my favorite male comics talk about sex a lot and they don't get labeled that. The double standard of that bothers me." — A Conversation with Amy Schumer
On keeping it honest
"I didn't grow up hearing any women really delving into that side of themselves. So I thought, 'OK, maybe I can be this person for women and for men just to hear the women's perspective in a less apologetic, honest way.'" — NPR's Fresh Air
March 18, 2015, 9:00 am: This post has been updated.