'Community' Is Back for Season 6, But It Feels More Like a Zombie of Its Past Success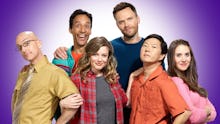 "One by one, they all just fade away," The 88 sings in Community's theme song "At Least It Was Here." It's been the theme since season one, but it's never felt as true as it does now. 
Killed by NBC after five seasons, renewed by Yahoo for a sixth, Community debuted its first two episodes of the season Tuesday morning. (Unlike streaming services Netflix and Amazon Prime, Yahoo is rolling out new episodes of Community week by week.) But with three of its original eight cast members gone, the march toward the show's hallowed #SixSeasonsAndAMovie prophecy feels perfunctory at best.
Jeff Winger (Joel McHale) and his friends at Greendale Community College are not in good shape — their school is falling apart, and Dean Pelton (Jim Rash) has hired a no-nonsense woman, Frankie Dart (Paget Brewster), to fix things up. Stripped of what they loved about their school, and of yet another friend — Shirley Bennett (Yvette Nicole Brown) having moved in the interim — they're struggling to figure out their place in this new world.
"How much can you improve Greendale before it stops being Greendale?" Jeff asks his friends in Community's first episode. Frankie's making quick and radical changes, including the removal of all alcohol from the campus. "She doesn't understand it."
The joke is obvious: Greendale is Community! Jeff and his friends are the fans of the show! Will it all be OK thanks to all the changes, or is there real cause for concern? A scene where Abed Nadir (Danny Pudi) dissects how Frankie's "character" affects he and his friends' "show" leads to this particularly on-the-nose response from her: "Good shows change." It's not a particularly funny moment — in fact, the premiere is remarkably free of humor. There are chuckles, but the brilliance of its comedy, particularly in its second and third seasons, is lost.
Community has always been meta, and there will forever be fans who appreciate it for that sensibility. But we're several levels down the meta hole at this point. When the main cultural reference you're making is to yourself and how fans receive you, it can get a bit twisted. Arrested Development got similarly meta in its third season, but it still had a plot. It was still about something. It's unclear so far if the same can be said of Community.
As Frankie says of Jeff and Co. — or is it of the fans? — "You are compulsively defiant." They're not abandoning this ship despite the changes. There might even be enough of them to get the show to a seventh season, as the Atlantic's David Sims argues. But at this point, the show's legacy is just tarnishing itself. 
This show has lost cast members to other sitcoms (Brown), bigger projects (Donald Glover) and self-destructive flameouts (Chevy Chase). Community barely looks like Community anymore. And yet the final scenes of the premiere — unrelated to the plot of the episode but also the funniest part of the episode — serve as a throwback to Community's best moments. It's a stinging reminder of what once was.
Community has always been meta, and there will forever be fans who appreciate it for that sensibility.
#SixSeasonsAndAMovie may be possible. At this point, one could even call it probable if Yahoo opts for a special movie event versus a seventh season. But to call it the same show from beginning to end feels incorrect. There have been many iterations of Community, and it's been years since we've seen a truly great one.