Nintendo Just Announced a Huge New Video Game Venture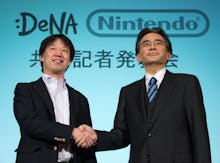 After being locked in Nintendo's proverbial Poké Ball for years, there's hope that Pocket Monsters — known stateside as Pokémon — and a slew of other iconic characters will be available in pockets soon.
DeNA, a huge mobile portal provider in Japan, announced Tuesday new plans to bring Nintendo games to smartphones. Quoth DeNA's statement:
Leveraging the strength of Nintendo's intellectual property (IP) and game development skills in combination with DeNA's world-class expertise in mobile games, both companies will develop and operate new game apps based on Nintendo's IP, including its iconic game characters, for smart devices.
So far, the statement alludes only to using existing characters in new games. That would seem to indicate Mario- and Zelda-themed Tetris games and the like, but Nintendo and DeNA would be wise to take further steps into remaking old games for the system. There's precedent for that, too: Several games in Square Enix's Final Fantasy series have been released for iOS before. Seeing Pokémon or Metroid's earliest games on the system could be hugely lucrative.
Getting the gaming giant to that point may take time, however. Nintendo president Satoru Iwata has been infamously stubborn about creating iPhone games in the past. "This is absolutely not under consideration," he said in 2011. "If we did this, Nintendo would cease to be Nintendo." (So far, post-announcement Nintendo appears to still be Nintendo.) Iwata today denied he ever ruled out the idea of smartphone games, merely opposed it, but regardless, it's taken the company time to come around.
Why now, then? Nintendo's most recent console, the Wii U, hasn't been going like hotcakes the way its predecessor did. It's sold fewer units than either Sony's PS4 or Microsoft's Xbox One. Earlier today, Nintendo announced it's working on a new console, codenamed the NX. While the Nintendo 3DS and its other variants sell well, this is an opportunity for a major new revenue stream.
Of course, to make proper use of that stream, Nintendo will have to put together quality content. It's unlikely to devote major new properties to mobile, so remakes of old greats like The Legend of Zelda: A Link to the Past or Pokémon Red and Blue are an easy way to take advantage. After all, it's hard to imagine a bored subway commuter who wouldn't love to catch 'em all on the L train in the morning.