11 Brand New Kendrick Lamar Lyrics Prove He's the Most Visionary Man in Hip-Hop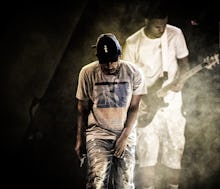 Over the course of five mixtapes, three albums and an EP Lamar has proved himself one of the most visionary artists in hip-hop. He frequently describes himself as a writer — not a rapper — and he told Rolling Stone he believes his newest album especially will one day "be taught in college courses." 
He's likely right. Released by accident a week early on Sunday night, Kendrick Lamar's highly anticipated album To Pimp a Butterfly offers some of the densest and most brilliant lyrical gems of his career. Here are 11 brand new lyrics that prove the 27-year-old has earned the right to call himself King Kendrick:
On what it means to be a leader for his community
In the album's very first verse, Lamar answers all the questions raised by To Pimp A Butterfly's extremely bold album cover. The black-and-white photo imagines what would happen if a highly stereotyped form of hip-hop triumphed over our country's institutionalized racism. A gang could kill all the white judges and "sock out" all the Republicans, as Kendrick raps. But, if they did, what would they replace this system with? Lamar satirically answers that it doesn't matter because he's got his "million-dollar check."
In just four bars he brilliantly sets up the major tension he'll unpack over the course of the album. He's playing with fire, considering both the structural and cultural theories of racism, the fallout of ghetto violence and rap's responsibility to uplift.
On the false promises of racial equality
Lamar plays off the legendary reparation promise made during Reconstruction that all freed black men would receive forty acres of land and a mule. Had this deal gone through, it would have "fundamentally altered the course of American race relations," as Henry Lewis Gates Jr. wrote for The Root. Instead, today we have large portions of the black population across the country confined to ghettos, where we happen to see abnormally high rates of alcoholism and pit bull populations.
On ghostwriters and unoriginality
Lamar's album is a fierce referendum on most rappers' use of their talent and influence to push the art forward. Nested in his powerful revival of the Kunta Kinte figure from Roots, Lamar tears down cookie-cutter rappers telling the same stock prison story. All those rappers are sharing bars — cell block bars and lyrical bars — like they're trapped by their own weak concepts.
On the purpose of luxury raps
Originally, rappers emphasized luxurious lifestyles to inspire their listeners. Biggie's long list of toys on "Juicy" offered hope for those who felt trapped by poverty. Recently, though, hip-hop materialism has been overblown to the point where it's difficult to see the inspirational aspects. Lamar takes his position as a thought leader seriously enough to look critically at that trope.
On the long-lost golden age of hip-hop
Hip-hop purists eulogize the long-lost of "golden age" of rap music, spanning the mid-80s to the mid-90s, when the music was more conscious, political and spiritual. Rap like that still exists today, as Lamar argues and proves. If people really cared about that, then Killer Mike albums (like Run the Jewels 2) would be going platinum. Unfortunately, they're not. But that doesn't mean they don't exist.
On the real value of money
Every dollar is a physical representation of hard work, struggle and drive. But if a dollar goes toward drugs or overly flashy material goods, is it really worth anything? These meditations drive "How Much A Dollar Cost," as Lamar recounts an interaction with a beggar. Lamar declines to give the homeless man a dollar, thinking he's just going to waste it on something useless. Then, the man reveals himself to be Jesus Christ testing Lamar's compassion. The true cost of a dollar may be the greed of holding onto it too hard.
On tribal warfare
Kendrick Lamar draws parallels between African tribal warfare and the struggles between gangs in Compton. It's a bold and potentially offensive line for many. Lamar describes gang warfare as an example of a community tearing itself apart when it should be building itself up. The line echoes another from fellow TDE rapper Ab-Soul. On "Terrorist Threats," Soul raps, "If we could link up every gang / We'd put the White House lights out today." That line has eerie connotations considering the scene on To Pimp a Butterfly's cover.
On the causes of racism
This is the most controversial line on the album. "The Blacker The Berry" runs down both the structural and cultural justifications for racism. This line is the kicker of the song's third verse, which unpacks the cultural side. Lamar basically poses the idea that there's a fundamental hypocrisy in the way the black community condemns police gunning down black youth, but doesn't always condemn black youth for killing one another on the same streets. The lines offer no easy answers, condemning Lamar for even allowing the thought. But asking questions with easy answers is not what a visionary — or a prophet — does. His willingness to test the limits of what is acceptable for him to say is only a testament to how deeply he's digging here.
On believing in yourself
The hip-hop community didn't exactly receive Kendrick Lamar's feel-good "i" with open arms when it dropped last year. Some critics felt it didn't have the same intensity as his good kid m.A.A.d. city tracks. However, it is essential to the album. It serves as an enlightened juxtaposition to the suicidal doubt portrayed in the track's twin, "u." The emphasis on self-respect and confidence continues a theme Lamar began on his last record's penultimate track, "Real," where Lamar asks, "What love got to do with it, when you don't love yourself?"
On the use of "n*gger"
The album version of "i" ends differently than the single. The album's take sounds like a live performance where Lamar gets cut off by a fight breaking out in the crowd. Instead of finishing the song, he launches into a freestyle where he unpacks the history of the n-word. Black people chose "negro" and "nigga" as empowering forms of "nigger." Kendrick argues black people should have chosen "negus" to describe themselves — an Ethiopian word for "emperor." The word has a positive and empowering connotation, versus "nigga," which comes from a long history of denigration.
On self-respect
After almost every song on To Pimp a Butterfly, Kendrick expands a spoken word piece he starts building on "King Kunta." "I heard you was conflicted, misusing your influence..." 
On the last track, "Mortal Man," Lamar finishes the phrase. The point of the record, as he construes it, is to teach black people to respect themselves, echoing a controversial statement he made about Ferguson. "Just because you wore a different gang colour than mine's doesn't mean I can't respect you as a black man," he says on the track. "If I respect you, we unify and stop the enemy from killing us." It's a powerful conclusion to the album's long journey towards understanding the position of black people in this country and the rapper's own understanding of his role within the nation. Lamar's concluding conversation with Tupac is just a victory lap. It's one he earns.