Egypt Wants to Spend $45 Billion on "New Cairo." It's a Terrible Idea.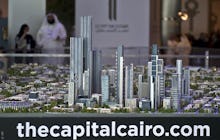 Cairo is one of the most crowded cities on Earth, and its infrastructure shows it. Cairo's near-constant traffic jams cost the city $8 billion a year. The city's Metro system is crumbling under more than 1 billion annual trips. With population of Cairo projected to continue growing by 2% each year to a staggering 40 million by 2050, government planners have honed in on a $45 billion solution to combat the looming urban planning nightmare.
No, the money isn't earmarked to invest in infrastructure or to build affordable housing. Instead, the Egyptian government, headed by President Abdel-Fattah el-Sissi, has decided to pack up shop and build a shiny capital east of Cairo, a sprawling 150 square miles of urban oasis for up to 7 million inhabitants. 
According to its website, Cairo Capital (which has not been named) will be a "city of the future" that will feature 21 residential districts, host 1.1 million homes, boast hundreds of schools and hospitals and create 1.75 million jobs. It will be financed by companies from the United Arab Emirates and has already raised several million dollars in funding from Dubai.
Would this actually work? Even if you can overlook that this scheme sounds suspiciously like the backstory to Robocop, Sissi's plan to funnel government funds into a lavish new capital instead of rejuvenating a old city is raising eyebrows. 
The Washington Post's Ishaan Tharoor called the idea "strange," noting the plan falls in line with Sissi's habit of invoking the "imperative of guaranteeing stability when dismissing criticism of the country's shocking human rights record during his rule."
Instead, the project looks much like a continual failure of Egyptian policymakers that Jadaliyya's Jon Argaman identified last year: making the "assumption that Cairo is 'too crowded' and therefore its people must be dispersed, allows state officials to disengage from the problems and concerns of the city and the people who live in it." 
In fact, Argaman writes, Cairo's density has been repeatedly cited as beneficial for public services. But the myth that Cairo is unsustainably dense "provides justification for the imperative to start over, to avoid dealing with the existing city, which requires a fine-grained understanding of communities and their needs, and instead turn to dreams of building new housing and cities elsewhere."
Better ways to spend the money: Historian Khaled Fahmy likewise argued in the Cairo Observer that the $66 billion figure cited by Minister of Investment Ashraf Salman could likely solve many of Cairo's existing infrastructural issues. The last Cairo train expansion, Fahmy said as an example, cost $1.8 billion, meaning that the funds for the capital would pay for 30 train lines. Overall, the cost of the project would come to a sizable chunk of Egypt's GDP.
Fahmy says the root of Cairo's problems is the "complete lack of any effective, democratic institutions in which we could have a say in how our city is being run," something that the Cairo Capital project conveniently won't change.
The government planners might also be looking at the project with rose-tinted glasses. The seven-year timetable for construction is optimistic, and previous projects like the New Cairo suburb have failed to fulfill their objective of providing housing for millions of residents.
"It's just a bunch of crazy figures," Cairo urban planner David Sims told the Guardian. "The scale is huge, and there are questions like: How are you going to do the infrastructure? How are you going to get the water? How will they move all these ministries? 
"In other words, I think it's just desperation. It will be interesting to see if anything comes of it, but I rather doubt it."
The real reason? Propaganda. Historically, the construction of bright, pristine capitals has been part of calculated attempts to celebrate the reign of a new order. The plans don't need to be realistic — they just need to act as a sort of tribute to Sissi's establishment of a new autocracy in Egypt.
The result would be a lot of wasted resources that could have gone to improve Cairo itself, as well as a new city that will likely fail to amount to anything but an overly optimistic development project. 
"An investment in solving the tremendous infrastructure problems in Cairo itself to make it a livable city with a quarter of the money pledged with be infinitely more appropriate," University of California, Berkeley professor Nezar AlSayyad told the Middle East Eye. The Atlantic's Matt Schiavenza draws a more modern parallel in Burma's decision to build a capital named Naypyidaw in 2005, only to have it devolve into a ghost town.
In another sign of ill omen, AlSayyad noted that some of the images being used to promote the new development to investors were of a large botanical garden in Singapore. 
Instead of investing in everyday Egyptians, Sissi and the economic elite of Egypt are trying to get foreigners to pay for their vision of Cairo. It probably won't work.