The Tumblr That's Fighting for Gender Equality in the Music Industry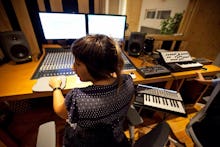 Women's work often goes unacknowledged and uncredited in the professional world. Sadly, the music industry is sadly no different. As Bjork pointed out earlier this year in an interview with Pitchfork, "It's invisible, what women do. It's not rewarded as much." 
One solution, according to Bjork, is for female artists to document their work by photographing themselves at mixing desks in production studios. "I remember seeing a photo of Missy Elliott at the mixing desk in the studio and being like, a-ha!" Bjork stated in the interview. 
The approach makes sense; as the saying goes, you can't be what you can't see. Bjork's light bulb moment inspired another. After reading the Pitchfork interview, musician Antye Greie-Ripatti launched the Tumblr female:pressure, a new project that shares photos of female producers, DJs, media artists and electronic music performers, demonstrating "women and their use of technology in music and media production," as per the project's mission statement. 
The project is related to the international network of over 1,400 female electronic music artists from 65 countries, also called female:pressure, that Susanne Kirchmayr (aka Electric Indigo) founded in 1998. 
Greie-Ripatti, who curates the images, is no stranger to being denied credit for her work and being marginalized based on her gender. "When I started producing music, in 8 out of 10 articles I was mentioned as the vocalist, but the production was credited to the male collaborators," the musician wrote in a blog post. "It was so annoying that it made me make solo music and stopped me from singing."
An industry-wide problem: Greie-Ripatti's personal experience is backed by statistics showing that sexism pervades every level of the music industry. Sixty-eight percent of all music industry-related jobs are occupied by men, according to a report by the Creative & Cultural Skills organization in the U.K., and according to the BBC, fewer than 5% of record producers and sound engineers are women. 
Furthermore, the lineups at countless music festivals are consistently male-dominated: Of the over 500 artists who played the 2013 Coachella festival, for example, a little more than 10% were female-fronted acts, according to Salon. 
Not just "exceptions": Even when women are recognized in the industry, Greie-Ripatti observed, they are considered an exception to the rule. Throughout her career, she's noticed that certain women are positioned as "the one single woman who made it of all to break through in the magic world of DJs or producers, the one and exceptional only talent," she told Mic in an email. 
The goal, the musician says, is to achieve equality, not exceptionalism, and she believes visibility through efforts like female:pressure is the key. "I hope people will use [this Tumblr] for inspiration to book gender-balanced events and label releases," she told Mic. Projects like female:pressure "can start something and initiate a dialog, connect so many people globally," she added. "It is so important that women speak out ... It is important that we develop solidarity."
Of course, online efforts, and the visibility they can generate, is only the beginning. "Never forget [inequality is] systemic," Greie-Ripatti asserted.
This Tumblr may just be the start of a greater push for women's representation in the music industry, but by harnessing the power of the collective voices — and visual presence — of the women themselves, it's undeniable that this effort could do much to contribute to a more equitable future.