Lesbian Dating App Offers Something Awesome That Tinder Never Could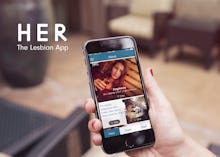 Dating apps are constantly evolving with new interfaces, new features (Tinder Plus, anyone?) and new potential partners. But there's one thing plenty of dating apps still aren't doing: helping us connect us with the people we don't end up dating — you know, the people we might just want to be friends with. 
That's one of the unique features of Her, the recently rebranded dating app aimed at the lesbian and bisexual female community. Formerly known as Dattch, the app just received $1 million in funding and is rolling out in several U.S. cities in the coming months. Queer women remain an underserved demographic in the online dating space, giving Her a huge opportunity that they're approaching with a unique perspective.
"I think with the relationships between women ... it's never a clearly defined boundary," founder and CEO Robyn Exton told Mic. "Like, if I go on a date with someone and there isn't that spark or connection but she's a cool girl, I'm probably going to invite her out next weekend when I'm meeting up with my other friends.
"Whereas in a straight capacity," she added, "that would never happen."
Making social connections: That social fluidity is key to Her, which is focusing first and foremost on connecting women with other women. "There's this social element to it," Exton told Mic, one that isn't limited to dating. According to a press release this week, Her explained its purpose this way:
More social, less dating. Women aren't looking for a 'Hot or Not' — they want to chat and meet up, make friends, meet girlfriends, find events. HER is a complete lesbian community.
To that end, Her profiles aren't limited to flatteringly filtered photos of people's faces. Instead, using a Pinterest-like model, users fill their profiles with text and photos conveying their interests, from lattes and animals to travel.
"You 'like' content about women, rather than saying 'that face is nice,' so you're also connecting over mutual interests," Exton said. "That [way] you can talk to other women that have similar opinions — or even very different opinions — about certain topics."
Then there's a communal, offline element. "We're mixing in local events in your area, so that you can meet people who are going to that event or chat before them," Exton told Mic. "Probably the biggest part of it is the social dynamic. We know that our community wants to meet each other, not in just a one-on-one capacity. There are a lot of group dynamics."
By combining user interests as well as community happenings, Her aims to help women expand their circles socially as well as romantically, without drawing false distinctions about what is really a more organic experience.
Can't we just be friends? That social element is missing from plenty of other dating apps, particularly "mainstream" ones aimed at much wider, less specific audiences. Apps like HowAboutWe hone in on particular interests, facilitating dates around certain activities, while apps like JSwipe focus on specific communities but are limited to simple swipe-and-match dating.
But most dating apps, no matter their gimmick, end up being limited to dating even when they're equipped to do so much more. "The purpose was never just for dating, it was for social discovery in general," Rosette Pambakian, vice president of communications for Tinder, told Elle last year. 
Connecting with platonic friends can be a serious challenge, especially for straight men and women who've been told their whole lives they "can't be just friends." Lauren Vino attempted to prove the maxim wrong in a Tinder experiment for MTV.com in February, which utterly failed.
"The problem with making friends on Tinder is not that men and women can't be friends. It's not even that guys and girls on it are too thirsty," Vino wrote (though some might argue that is the case). "It's that there's no jumping off point to gauge shared interests before you start talking." 
Her is just one app trying to change that. Perhaps apps beyond the lesbian and bisexual dating world may take note.