One Homophobic Alabama Judge May Have Just Cost the State $15 Million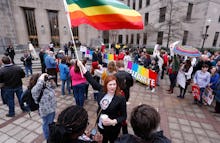 When Alabama Probate Judge W. Hardy McCollum moved to block same-sex marriage in Alabama in defiance of a federal court order, he probably scored some political points in a state with the lowest levels of support for same-sex marriage in the country. McCollum's decision, however, may have just cost the state $15 million.
Former Alabamians Elliott Mitchell and Clark West, who married in Hawaii in 2013, have announced that they revised their wills to remove the University of Alabama, their alma mater, as the primary beneficiary of their estate, AL.com reported Sunday. The couple told Mic their decision was finalized earlier this year in response to the Tuscaloosa-based probate judge handed down his ruling.
"We were very concerned they would not have total control over the assets we would give them," Mitchell told Mic. "Any probate judge in the state could throw out the will." Mitchell, a real estate developer, and West, a mental health counselor, estimate the value of their estate north of $15 million, according to AL.com.
LGBT life in Alabama is a headache. While McCollum ultimately backed down, Alabama remains one of the most legally complicated states for LGBT couples in the country. After a U.S. District Court found the state's ban on same-sex marriage unconstitutional in two separate cases, 47 counties began issuing marriage licenses to same-sex couples. 
The remaining 20 counties followed a constitutionally questionable order from Alabama Supreme Court Chief Judge Roy Moore, either issuing licenses only to heterosexual couples or refusing to distribute them at all. After the U.S. Supreme Court declined to stay the initial district court decision, probate judges in Birmingham, Huntsville and Montgomery disobeyed Moore and began issuing marriage licenses to same-sex couples.
But problems for gay Alabamians go beyond marriage. Alabama's hate crime law pointedly does not protect its LGBT citizens. Second-parent adoption for LGBT couples is so difficult that one local law firm suggests that interested couples head to Florida. 
In sex education, Alabama law still requires that educators must teach that "homosexuality is not a lifestyle acceptable to the general public, and that homosexual conduct is a criminal offense under the laws of the state." This has not been true since 2003.  
"We don't feel safe in Alabama," West told Mic. Both men professed their admiration for the University of Alabama, and said it was unfortunate it had to be caught in the middle. "We're very involved with student recruiting, we sponsor a theater production every summer; our fight is with the lawmakers in Alabama," Mitchell added.
How does UA play into this? The two men, however, described a mixed record when it came to UA's involvement with the LGBT community. "Their silence is deafening," said West. 
While the school does award the Elliot Jackson Jones scholarship for students that "continuously find new ways to positively support the gay, lesbian, bisexual, transgender and queer student population at the University of Alabama," they were far cooler on the idea of an LGBT-friendly community center that the two men had floated a few years ago. 
"They're really dependent on the lawmakers," West said. "They separate themselves because of fear."
University officials, who are currently on spring break, could not be reached for comment. In a statement to AL.com, university president Judy Bonner said, "Elliott Mitchell and Clark West have been loyal members of the UA family for many years, and we very much appreciate their unprecedented generosity and support for their alma mater."
The couple now plans to donate their estate to the newly formed Clark West and Elliot Mitchell Family Foundation.
h/t AL.com