19 Dead in Terrorist Attack in Tunisia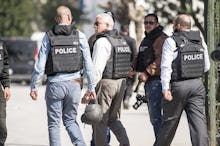 Gunmen in Tunisia killed 19 and injured more than 20 others Wednesday after storming an art museum in downtown Tunis, the country's prime minister said in a statement.
A Tunisian Interior Ministry official told ABC News that "the hostage situation was over and that the two attackers had been killed by security forces."
According to CNN, the Islamic State group has apparently claimed responsibility for the attack. IS posted an audio recording online Thursday naming the two men and warning this attack is "just the start." While CNN reported it could not independently verify the recording's authenticity, CNN reports that a U.S. official told the news organization there is "no reason to doubt the claim's authenticity."
Of the 19 people killed at the Bardo Museum, 17 were foreign nationals, Tunisian Prime Minister Habib Essid said in a press conference, and that two of the shooters were also killed following the "cowardly terrorist operation." According to Essid, the attackers were wearing military-style fatigues. The countries of origin of the victims include Germany, Italy, Poland and Spain. The American embassy in Tunisia has refused to say whether Americans were among the dead.
According to reports, helicopters flew overhead as Tunisian armed forces descended on the museum. The nation's parliament, which sits in close proximity, was evacuated.
Tunisian state radio referred to the two gunmen who stormed the museum as "Islamists," according to CNN. At this time it remains unclear exactly who the attackers were or their motivations.
Photos of the attack emerged on Twitter almost immediately. 
The situation is a major setback for Tunisia, which had been widely cited as the most promising nation to emerge from the Arab Spring revolutions that began in late 2010.
CNN reported as many as 3,000 Tunisians are known to have traveled to Iraq and Syria in support of the Islamic State group over the last few years, according to the International Center for the Study of Radicalization.
Updated: March 19, 1:24 p.m.