There's One Big Problem With This Petition to Keep Kanye West From Headlining Glastonbury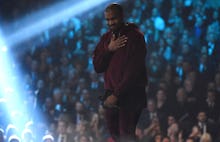 Kanye West had an explosive start to 2015, and he's now set to carry that momentum into the summer. Glastonbury, one of the largest music festivals in the world, recently announced that he would be headlining.
But not everyone is excited to see West take that historic stage. Neil Lonsdale, a British man with a ticket to Glastonbury, has begun circulating a vicious petition on Change.org. It has over 47,000 signees as of this writing, all agreeing that Glastonbury should "Cancel Kanye West's headline slot and get a rock band."
"His songs are lyrically appalling. He sings about 'bitches' and 'n*****,'" Lonsdale said in a statement, according to Gigwise. "He totally disrespected Beck at the recent Grammys. His Brits performance was just threatening. Glastonbury needs upbeat major artists. There are a huge number of acts free on that day."
It might be funny if it were just Lonsdale, but the popularity of his petition reveals a long-standing bias: The community surrounding one of the most iconic music festivals in the world has never welcomed hip-hop. Kanye is the second of two hip-hop headliners in the festival's 45-year history. Neither one has been welcomed.
"Kanye West is an insult to music fans all over the world," reads Lonsdale's petition. "Kanye has been very outspoken on his views on music....he should listen to his own advice and pass his headline slot on to someone deserving!"
He isn't the only one who thinks Kanye is just wrong for Glastonbury. The Tumblr "White People Angry About Kanye" has filled up with Glastonbury-specific hate following the news. But this goes much deeper than Kanye. When Glastonbury announced that Jay Z would be headlining in 2008, the backlash from artists and fans was swift and divisive.
"I'm sorry, but Jay Z? No chance," Noel Gallagher, the guitarist of Oasis, told the BBC, as reported by MTV. "Glastonbury has a tradition of guitar music. I'm not having hip-hop at Glastonbury. It's wrong."
The attitude shocked Jay Z. "It's ridiculous, if we don't embrace what is new, then how do we progress? I've never actually experienced anything like that before," he told BBC Radio 1. "It's 2008, what is that about? That's such old school thinking, that's not even how the world thinks anymore."
When Jay Z finally did take the stage, he opened with a brilliant retort to Gallagher. He walked on stage carrying a white Stratocaster and opened by singing along to Oasis' biggest hit, "Wonderwall," before launching into a guitar-heavy version of "99 Problems." Publications praised the move as absolutely brilliant. Jay Z's move put "Wonderwall" back on the charts, and Gallagher admitted what he said "was wrong."
Jay Z's coup should have proven that hip-hop acts have a place at Glastonbury. Yet here we are again. If anyone can prove the haters wrong, though, it's Kanye. His performances this year have all been alternately heartfelt and thrilling. According to Billboard, his Yeezus tour last year even had rock purists like Jack White walking away saying, "That might have been the greatest show I've seen in my life ... It was more punk, more in-your-face than anything I've seen."
Saying Glastonbury only hosts rock and "guitar music" cheapens its legacy. It's really about progressive, counter-cultural music. Few genres today are more culturally aware and culturally relevant than hip-hop. Petitioners should give Kanye a chance before they snatch his mic. If they don't, they're no better than he is at his worst.