An Egyptian Woman Posed as a Man for 43 Years to Feed Her Family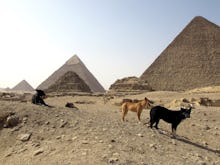 It was recognition that was long overdue.
Sisa Abu Daooh, a 64-year-old Egyptian woman forced to dress as a man for 43 years to make a living, was honored by the governorate of Luxor on Tuesday as one of Egypt's ideal mothers. The Egyptian government announced that she would be the recipient of the "woman breadwinner" award, according to a profile in Al Arabiya.
A pregnant Abu Daooh was left with no means of support after her husband died. Entrenched local attitudes against women working forced her to disguise herself as a man to avoid destitution. "I preferred working in hard labor like lifting bricks and cement bags and cleaning shoes to begging in the streets in order to earn a living for myself and for my daughter and her children," Abu Daooh told Al Arabiya.
If this award gives you an awkward feeling, you may be on to something. Honors like this are usually a time to reflect on how far you've come. But when it comes to women in Egypt, there is still a long way to go.
Egypt's problem with women: A 2013 Thomson Reuters Foundation poll flatly declared Egypt to be the worst Arab state for women. The poll surveyed hundreds of gender experts in 21 Arab League states, as well as Syria, asking them to weigh factors including domestic violence, access to employment and the prevalence of female genital mutilation to determine the best and worst homelands for Arab women. Egypt landed at the bottom of the 22-nation list.
"Egyptian women face regular threats of sexual violence and other forms of violence and discrimination," Suad Abu-Dayyeh, a consultant on Middle Eastern issues at Equality Now, an NGO working for the "protection and promotion of the human rights of women and girls around the world," said in an email to Mic. "Human rights violations are common."
According to the American University in Cairo, there are still few opportunities for women at both the lower and upper ends of the employment spectrum. Low-skilled work like farming, fishing and hunting accounts for 43% of female employment, while just more than a fifth of women work in professional services. Only 3.91% of women work in critical legislative, administrative and managerial occupations.
"Women and girls are not afforded the same value as their male counterparts and experience hardship in all facets of society," said Abu-Dayyeh.
The issue of employment echos larger iniquities within Egyptian society. A study in 2008 from the Egyptian Center for Women's Rights found 83% of women had experienced sexual harassment. Conservative lawmakers have tried to roll back divorce laws, and despite a ban of female genital mutilation, the practice remains widespread. 
A UNICEF report found that in 2008, 95.5% of married women had been subjected to the practice, as well as 74% of Egyptian daughters between the ages of 15 and 17. An Egyptian doctor who killed a 13-year-old girl during a genital mutilation procedure was finally sentenced to two years in prison after initially being acquitted. 
A way forward: Egypt, last among women in the Arab world, could learn a lot by looking at the Comoros Islands, which were ranked first in the same 2013 poll of Arab experts. The archipelago off the coast of East Africa punches well above its weight when it comes to gender equality.
At the time the poll was taken, the ministers of labor and telecommunications were both women, and women accounted for 20% of the overall ministers in government. A 2009 report by the African Development Bank found that, "The Comorian Government recognizes the importance of gender mainstreaming and full participation of women in the development process as a means of reducing poverty and boosting the country's economic development."
Tunisia, in Egypt's own backyard, legalized abortion before the procedure was declared constitutional in the United States. In 2014, the country withdrew its remaining reservations to the United Nations' Convention on the Elimination of All Forms of Discrimination against Women, and Article 46 of Tunisia's new constitution goes further than many Western countries, declaring that "the state guarantees the equality of opportunities between women and men to have access to all levels of responsibility in all domains."
With its ancient culture and civilization, Egypt was once a leader in the Arab world. Today, its abysmal record on women's rights complements its diminished profile. Honoring trailblazing and courageous women like Sisa Abu Daooh is something we can all be proud of, but these are not awards we should want to give out forever. If individual achievements are not met with positive change on the ground, their efforts are wasted.