NASA Surveyed the Future of California, and the Result Could Be Catastrophic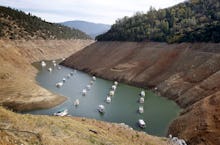 As California enters its fourth year of a scorching drought that has consumed most of the state's water reserves, a senior NASA scientist has a stark warning for the Golden State: There's only one year of water left.
In an op-ed for the Los Angeles Times, Jay Famiglietti, a University of California, Irvine, water scientist at the NASA Jet Propulsion Laboratory, urged the state to begin a program of "immediate mandatory water rationing" for all customers and cautioned that California "has only about one year of water supply left in its reservoirs, and our strategic backup supply, groundwater, is rapidly disappearing."
Famiglietti writes that the situation is much more urgent than policymakers realize. The state has no contingency plan should the water dry up, and regulators are quickly running out of time to deal with the problem before it becomes a catastrophe.
The background: California's four-year drought, which boasts both record-breaking average temperatures and sustained lows in rainfall averages, is widely considered to be the worst in the state's recorded history. Climate scientists who examined tree ring samples dating back centuries have concluded that a sustained drought of this ongoing severity in California hasn't occurred in the last 1,200 years. 
The United States Drought Monitor estimate 93.44% of the state is experiencing severe drought or worse, with an astonishing 39.92% of the state still experiencing "exceptional" drought in the middle of what is usually the tail end of California's rainy season.
One more year of this, and it's unclear how the state of California will manage to keep crops watered, citizens hydrated or provide water resources for industrial and commercial applications. 
Who's to blame? According to Famiglietti, state regulators have dropped the ball responding to the historic drought. As he notes, the state's Sustainable Groundwater Management Act of 2014 won't result in actionable plans to conserve California's water resources for at least 30 years. To date, he writes, California's response has been "staying in emergency mode and praying for rain."
However, Doug Carlson, a Department of Water Resources information officer, strongly contested Famiglietti's account, telling Mic that "[s]eeing the reservoirs run dry is obviously unacceptable" but argued that the one-year statistic "is kind of a scare tactic." 
"I think it's safe to say California has weathered droughts this severe in the past," he said. "If the drought continues and there needs to be cutbacks, then it's very likely that the cutbacks will occur to the agricultural sector," which consumes around 80% of the state's water. Carlson said that such a situation would be "unfortunate," but is both unlikely and poses little risk to citizens.
What happens next? Whether or not the state gets through this crisis unscathed, the long-term situation does not look good. The NASA data Famiglietti cites shows that the state has been losing water since 2002, long before the current drought. Current rates of consumption across California are only sustainable during years that rainfall and snowpack formation keep up with demand. The New York Times reports that the Sierra Nevada mountain range has just 19% as much snow as usual, the lowest levels since 1991.
It's unclear how the drought relates to climate change, but scientists have determined that the likelihood of such droughts increases with rising average temperatures and that a hotter world will have more "mega-droughts," some of which could last for decades. 
Paleoclimatologist Kevin Anchukaitis, a researcher from the Woods Hole Oceanographic Institution who worked on the tree ring sample study, told ScienceDirect that "there is no doubt that we are entering a new era where human-wrought changes to the climate system will become important for determining the severity of droughts and their consequences for coupled human and natural systems."
Why you should care: Whether or not climate change caused California's drought directly or is just tipping the scales towards severe weather, the state's experience with drought is a major warning sign that a changing climate will have serious and widespread effects on millions of people — and all too often, no one is preparing for it.
Or, as Famiglietti says, "In short, we have no paddle to navigate this crisis."
California might be in a uniquely terrible situation right now. But nationwide, just 14 states have plans to prepare their cities, towns and infrastructure for climate change. In Florida, former Department of Environmental Protection workers say that their agency even imposes an unofficial ban on the terms "climate change" or "global warming." If what's happening in California now is a window to the future, Americans should be very worried indeed.