Here's What Never To Say When Dating a Gay Black Man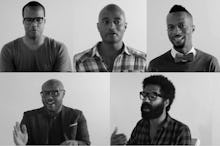 What kind of lines do gay men of color really hear when they're out at a bar?
Filmmaker Cameron Johnson set out to discover just that with his new short documentary, You're Cute for a Black Guy. Johnson asked a group of black gay men to sit down and reveal what really happens when they start dating interracially. Their stories reveal the difficulties and frustrations of dating in an environment that often tokenizes and ignores them. 
And oftentimes, it's the seemingly innocuous pickup lines that do the most damage.
Disturbing lines: One man in the video recounted the night he was approached and told, "Oh my gosh, I've totally never dated a black person before, but if I did, I'd totally get with you." 
Johnson remembered the time a man put his hand on his shoulder outside a club and said, "You know, Cameron, I'm really into mulatto guys." 
"You know what, I'm not really into ethnic guys," another participant once heard.
It's this kind of exoticizing and tokenization that inspired Johnson to make the documentary. "The idea came to me on a whim. I've dated men of all colors, shapes and sizes, but it seemed that white men habitually said reckless, racist things to me as part of their approach," Johnson told Mic. When Johnson heard he wasn't alone in this struggle, he decided to make a film expanding the conversation on racism in the gay community.
Stereotypes emerge: One reason such pickup lines are so insidious is because they play on long-established stereotypes of the black gay community. "I guess the biggest stereotype is that black men are just penises with Timberlands attached, and that whatever we have to offer sexually is our only value," Johnson told Mic.
"For the black gay community, the self-imposed stereotype is that there's only one way to be a gay black man. Online, I see so many demanding that their partners not have any trace of femininity ... There's so much more to being a man than fitting a narrowly enforced view of masculinity," Johnson explained. 
These stereotypes are reinforced by a society that's increasingly embracing white gay men in pop culture, but still lacks representation of gay men of color, both in mainstream and erotic media. The experiences of the men in the video underscore how badly these representations are needed in the "real world."
Racial prejudice on display: Some of these stereotypes play out most obviously on online dating sites, where we often judge one another in nanoseconds based on a single photo. "I have never been one who has had a lot of luck with online dating apps. There seems to be a desire for that which isn't me. So on the app, that looks like a lot of empty inboxes," one man in the documentary said.
Data from OkCupid in 2009 showed that gay black men received 20% fewer responses to messages than non-blacks. For white gay men on the site, 43% said they would strongly prefer to date someone of the same racial background as them. For black gay men, just 6% expressed such a preference. 
The statistics reveal that, despite a growing acceptance of interracial relationships, gay black men still face disadvantages. "On an individual level, a person can't really control who turns them on — and almost everyone has a 'type,' one way or another," Christian Rudder, an OkCupid founder behind 2009's analysis, wrote last year. "But I do think the trend — that fact that race is a sexual factor for so many individuals, and in such a consistent way — says something about race's role in our society."
Indeed, what we call "types," ostensibly based on attraction alone, are often formed by stereotypes. As the Guardian pointed out in a video, "The data shows that people are systematically expressing preferences that echo the negative racial stereotypes that exist in society. So isn't it worth at least asking how society might be shaping our individual preferences?" 
Starting a dialogue: Johnson hopes his work will raise awareness for anyone dealing with the pitfalls of interracial dating. Part of that, he said, will begin with his own self-acceptance to undo the damage years of dating stereotypes have brought on him.
"I want people to take away from this work that this is real, that it doesn't 'happen to everyone,'" Johnson explained to Mic. 
"It's probably happened to your black gay friend, the black girl at your office, your Latina friend, or the Asian girl you messaged on OkCupid. This is real. And it's happening. And it sucks."