The Wild Story of How an Unknown Musician Just Became a National Music Sensation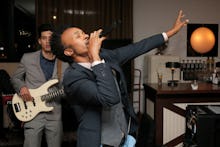 Last month, NPR wrapped up a competition for a spot playing their legendary Tiny Desk Concert. More than 7,000 undiscovered acts competed for the spot to appear in the series. One of those videos was of a man singing in a freight elevator under the name Fantastic Negrito. It was an unassuming video, yet it earned its creator a spot behind the tiny desk and a showcase at SXSW — a venue where some of today's most beloved independent acts have introduced themselves to the world. 
Overnight, Fantastic Negrito had a shot at stardom — but it wasn't its creator's first. 
Xavier Dphrepaulezz, the man behind Fantastic Negrito, has followed a long, grueling path to becoming one of the most promising up-and-coming acts in blues. Like all legendary bluesmen, he's tasted bittersweet highs — a major record contract in the '90s — and devastating lows. The struggle of his awe-inspiring story comes through in his voice and his songs. He's one of the most exciting new acts in music:
What attracted NPR's judges to Negrito's music was its "rawness."
"The idea of 'raw' music, to me, is honesty: getting people to feel you with the least amount of production possible, the shortest distance traveled emotionally, sonically," Negrito explained to NPR.
He draws much of his inspiration from America's original blues masters, who thrived in that stripped-down, rough-hewn aesthetic. He sees his name as an homage to their contributions.
"The name comes from the music of these masters, who I felt I was now just discovering. I heard them growing up, but I was from hip-hop," Dphrepaulezz told Mic. "But this is black roots music. This is what my ancestors — my great-grandmothers — were listening to. I thought it was a great way to shine light on these masters, these geniuses — R. L. Burnside, Son House, Robert Johnson — and bring more attention to black roots music."
Dphrepaulezz may be going back to roots, but they're radically different from his roots. Before becoming Fantastic Negrito, Dphrepaulezz was aiming to become a pop legend. He moved from Oakland to Los Angeles to try and make it and, with some hustle and Prince-like antics, he secured himself a million-dollar deal with Jimmy Iovine's Interscope records. But his debut record — 1996's The X Factor, released under the name Xavier — flopped. And Dphrepaulezz became disillusioned with his label's relentless pursuit of a commercial hit.
He walked from the deal, and a near-fatal car crash in 2000 cut his last remaining ties with the music world. It put Dphrepaulezz in a coma for three weeks. To this day, he still has limited use of his hands, and for a time, he stopped playing.
He gave up music, choosing instead to have "kids and be a farmer," as he jokes. It wasn't until years later, after his son had been born, that the music miraculously returned.
"I was trying to get my son to sleep ... and nothing could get this kid to sleep," Dphrepaulezz told Mic. He remembers picking up the last guitar he had lying around and hitting a random chord. "In that smile that my son gave me reacting to that open G chord — so many words came into my mind and into my heart. And I thought, 'Hey listen: I love this, man. Why am I going to let my baggage stop me?'" And he began his slow walk back to music.
Fantastic Negrito started trying out new songs in the streets of Oakland. He almost didn't submit a video to the NPR contest because he was beat from all his street performances. Thankfully, he mustered the strength. He crammed his band into a freight elevator in his building, and they cut their epic submission video on an iPad.
This time around Dphrepaulezz knows his career is going to be different. "I don't want to be famous. I don't want to be a star. I just wanna really enjoy music," he tells Mic. "That's why I started playing. I just wanna really enjoy it. Simple." That love comes through in his music. Check him out all around Austin at SXSW and watch blues mythology in the making.