University of Virginia Student Beaten Allegedly for Using Fake ID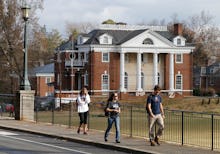 Martese Johnson, a third-year honor student at the University of Virginia, was arrested and reportedly badly beaten early Wednesday morning by local police. Johnson allegedly tried to enter the Trinity Irish Pub, a local Charlottesville watering hole, with a fake ID at the time of the arrest.
The student newspaper, the Cavalier Daily, reported that after Johnson was arrested at 12:45 a.m., he charged with "resisting arrest, obstructing justice without threats of force and profane swearing or intoxication."
In a video that emerged online, Johnson can be seen bloodied and pinned to the ground screaming "You fucking racist!" at the arresting officer. Johnson, who is black, had no prior criminal arrest record. 
The student group Black Dot issued a statement via email to the Cavalier, saying, "Outside of the doors of Trinity Irish Pub, a mass of university students bore witness to the officer's animalistic, insensitive and brute handling of Martese," adding that it hoped to see a "swift and thorough investigation on the state, local and university levels." 
Police officials confirmed Johnson's arrest and said he was booked at the Charlottesville jail and that he would be be charged with "a Class Four misdemeanor," carrying fines of up to $250. 
Student Council President Jalen Ross told the Cavalier that university President Teresa Sullivan has already filed a request to Virginia Gov. Terry McAuliffe to open an investigation into the arrest.
A university spokesman was unavailable for comment.