Video Shows Police Shooting Mentally Challenged Black Man Dead in Just Seconds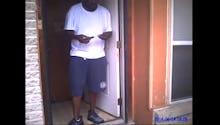 A newly released video depicts Dallas police officers responding to a call reporting a mentally ill black man and shooting him dead just minutes after their arrival.
The Guardian reports the interaction took place outside Shirley Marshall's home in Dallas on June 14, 2014, when the woman called 911 to report that her 38-year-old son, Jason Harrison, diagnosed with bipolar disorder and schizophrenia, was acting in a way that concerned her.
Harrison was clutching a screwdriver when he came to the door behind his mother to address the police. That was enough for the two Dallas officers arriving at the scene to shoot him six times within two minutes on the scene, according to a wrongful death suit filed by the family.
Harrison's family released a video of the incident this week showing just how quickly the encounter went south, and how officers made no attempt to subdue him using a stun gun or other less lethal methods of disabling a suspect:
WARNING: This video contains disturbing imagery.
"He was in the doorway, he had a screw driver, we had this behind us, we had to shoot," one of the officers can be heard saying in the video after the altercation.
"We should probably talk about it but ... yeah, we can't talk about it, we can't talk about it," another can be heard saying.
An attorney for the officers involved told the Dallas Morning News that murdering someone with a screwdriver would be "pretty easy. It'll only take one blow ... You can't de-escalate someone coming at you with a weapon."
Harrison's brother Sean Harrison disagreed, saying the video showed that Dallas police clearly did not understand how to deal with mentally ill people. "This is a perfect video for the Dallas Police Department to use in training as an example of what not to do,"  he told the paper. "You don't yell at them — that only agitates them."
According to the Guardian, bullets were found in Harrison's chest, arms and back. Both officers are back on the job while police internal affairs reviews the case.
The background: The Dallas Police Department appears to have a record of using excessive force, particularly against people of color. Between 2003 and 2013, officers shot and killed 57 people, 70% of whom were "ethnic minorities," according to the Morning News. From 2009 to 2013, officer injuries by suspects rose from 27 to 58 per year.
Nationally, evidence suggests that officers are usually quicker to shoot and kill or injure black suspects than white ones. A 2007 investigation by Colorlines and the Chicago Reporter found that in all 10 major cities studied, a disproportionately high number of black people were shot by police. 
The Treatment Advocacy Center, a national nonprofit that promotes the rights of the mentally ill, recently told Gawker that "when someone in the middle of a psychiatric crisis encounters the police, there can be potentially deadly consequences, especially if the police are not trained." The result, TAC said, is often unnecessary violence.
"The distinction matters," Dominican University history professor David M. Perry told CNN. "In America, being disabled comes with certain civil rights protections. While we generally try to eradicate illness, we are required to accommodate disability. So how does a police officer accommodate someone behaving erratically and holding a knife?"
Why you should care: Statistically, the nation's police are doing a bad job. Psychiatrists estimate that more than half of all police shooting victims are mentally ill. In 2012, Maine's Portland Press Herald reported that at least half of the 375 to 500 people killed by police nationwide that year had some kind of mental disability.
Former New Orleans Police Department Crisis Intervention Team commander Cecile Tebo told the Dallas Morning News that the Harrison shooting video was "the worst thing I've ever seen in my life." "That was handled very poorly," he said. "The art of crisis intervention is to be able to establish a trusting relationship pretty quickly," not shouting at them. "You want to be partnering up with the person."
Tebo said that the officers involved were outside, so they could have backed away from Harrison instead of shooting him. But former Dallas Police Department trainer Keith Wenzel told the Morning News that the officers "did an absolutely perfect job" and were blocked from retreating by a car parked in the driveway.
So even the experts disagree on whether the officers followed good protocol. But even when they do have appropriate training, things can go wrong. After video of three Los Angeles cops shooting a homeless man to death on Skid Row went viral recently, an investigation showed that the officers involved had trained for situations involving the mentally ill.
As a black man with a psychiatric disorder, Harrison faced stacked odds the moment police approached his mother's house. Shootings like the one that took his life are all too common for those like him, whether they're a person of color who has run afoul of police or a mentally ill person who just needs help.