What's the Best 'Goosebumps' Book of All Time? Monster Madness Hopes to Find Out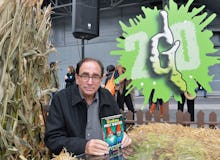 What's the best Goosebumps book of all time? Say Cheese and Die! No, wait, it's The Ghost Next Door. Or maybe The Horror at Camp Jellyjam? There's so many to pick from, how could one possibly choose? It seems impossible — which is why Scholastic and author R.L. Stine are turning to the power of many.
In the tradition of March Madness, Scholastic is running its own bracket competition this year: Monster Madness. The contest asks readers of the beloved horror series to vote among 64 classics to decide which is best. The books are divided up by iconic franchise characters: Slappy the Dummy, Curly the Skeleton, Horrors (the race of monsters), and Lawn Gnomes (shudder). It's a blast of nostalgia, with a fun prize for longtime fans: a copy of the winning book signed by the prolific author himself, plus copies of whichever books that make it to the "Final Four."
But Monster Madness is more than just a contest. This is a chance for parents who grew up with the Goosebumps books to remember their favorite titles and share them with their own children. It's a major play at parental sentimentality, but a smart one — Goosebumps is the kind of franchise not tied to time or format. Nickelodeon's old horror show, Are You Afraid of the Dark?, might look dated in 2015, but Goosebumps can inspire new fans at any time. So instead of just nostalgia-baiting older generations, it's passing the fixation on.
There are plenty of bracket challenges going on this month. Brackets are a fun way to generate long-term interest in something over the stretch of a month. Thanks to the NCAA, there's no better month to do it than in March. But giving something more than just a physical reward at the end — to give fans old and new the experience of reading and re-reading these books together — makes Monster Madness pretty special.
Blank brackets are available here. Scholastic is asking participants to submit final drafts as PDFs; the full set of rules is available on the Goosebumps website.
h/t Daily Dot