Why The Happiest Couples Are the Ones Who Never Stop Dating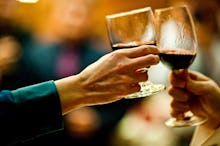 The urge to stay in and don sweatpants is strong. Very strong.
But while staying in isn't always bad, there are good reasons to run a comb through our hair and put on our best threads (and not just because we have new outfits we want to try out). New research shows that keeping up a "date night" can be incredibly powerful for maintaining a romance long-term.
The science of sustaining the spark: How do we make sure our long-term relationships don't lose their luster and stay passionate? It comes down to growing with each other through new experiences.
A 2014 study published in the Journal of Social and Personal Relationships surveyed more than 500 people ages 18 to 92, all in relationships, with a median relationship duration of 17 years. Scientists aimed to measure self-expansion, or "the integration of the qualities and characteristics of the partner into oneself," according to the abstract. Self-expansion creates a sense of "group identity," a team-of-two dynamic between a couple.
The participants rated statements about their relationship like, "Your relationship with your partner is the source of new experiences," and, "Being with your partner expands your sense of who you are."
The finding? Couples who had been together longer generally had lower group identity, since, the study says, we stop trying new things the longer we date. But there were exceptions: Those couples who kept squeezing in new experiences reported more attraction and sensual love than those who felt like their partners didn't help them grow anymore.
As lead study author Virgil Sheets, a psychology professor at Indiana State University, told Mic, "If you are supportive of each other and feel like you grow as your partner improves, you gain." By going on date nights and actively exploring the world together, you grow together — and you maintain the attraction and passion that first helped you fall in love.
Quality of dates matter: You don't grow much or learn much about each other by binge-watching TV in mutual silence. A 2014 study published in Personal Relationships found that spending time on shared activities helped sustain and improve relationships, but only when couples went on mutually satisfying dates (as opposed to one person being dragged to see Birdman when all they want to do is hit two-for-one taco night). Even just one novel seven-minute experience can boost overall relationship quality, another study found.
Danica, 26, has noticed how incorporating a weekly date night into her eight-year relationship has been a source of rejuvenation. Whether it's dinners out, cooking classes or a live comedy show, "we're bubblier, chattier, and more energized," she told Mic. "Experiencing a the bigger world together instead of getting stuck in the bubble of the mini-world you share is refreshing." 
Remembering your relationship: Pajamas are comfy, and staying in has its benefits . But that feeling of being a sexy, grown-up couple out on the town can get lost in the day-to-day.
As Aaron Anderson explains at Relationships Rx, "Your identity as a spouse and as a couple often gets lost behind the routine chores and everyday tasks. ... You forget about things like talking as grown ups, flirting with each other ... so date night is an essential element to put into your routine as a couple because it allows you to focus on your relationship and on each other in adult ways."
New dates can pull us out of the monotony. For couples who slot in challenging and interesting experiences between Netflix binges and homemade meals, things may continue improving in the long haul. The best couples may be the ones who never stop dating.