Comedians Are Leading the Feminist Movement — And Here's What That Says About Us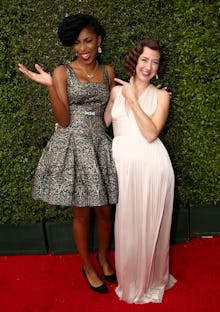 Tina Fey. Amy Poehler. Jessica Williams. Kristen Schaal. Chelsea Handler. Sarah Silverman. Amy Schumer.
There's a reason these women have succeeded in pushing issues like pay equality and reproductive rights into the mainstream, and that reason has everything to do with comedy. With a dose of humor, even the most bitter medicine tastes sweet; comedy can make feminism more palatable and accessible to a general public weary of a movement marred by stereotypes of "man-haters." 
Female comedians have been able to make serious issues facing modern women both resonant and hilarious. This is a good thing. But the fact that it is primarily comedians making such critical inroads in feminism suggests that other advocates of gender equality aren't granted the same respect or given the same platitudes, even though they champion the same cause.
Throughout modern history, women have used humor as one of their most incisive tools against misogyny. Perhaps the most recent incarnation of this began with Tina Fey and Amy Poehler, who rocked Saturday Night Live together as "Weekend Update" co-anchors and perfectly mocked the great female political rivalry (that never was) of the 2008 presidential election, through their impressions of Hillary Clinton and Sarah Palin. The two continued their own firebrand of feminism on stages outside of SNL, such as when they hosted the Golden Globe Awards: 
Fey and Poehler certainly weren't the first women to use comedy to advocate for feminist causes or to call out sexist double-standards. Early in SNL's history, Gilda Radner and Jane Curtin brought biting and funny feminist critique into living rooms, and the tradition continues through today with the show's additions of Sasheer Zamata and Leslie Jones. Beyond the world of sketch comedy, Lucille Ball played with the confines of female domesticity in I Love Lucy, and Marla Gibbs used wry humor to stick it to the man in The Jeffersons.
If this history is any indication, humor delivers feminist critique in a style that might be more comfortable for some. In recent years, satire in particular has been the dominant tool for attacking contentious issues head on. Take Schumer's roast of the media's treatment of women's bodies, or Silverman's championing of reproductive rights, or Williams' epic Daily Show segment on catcalling and street harassment. These comedians use satire to cut to the bone, and misogynists are too busy laughing to realize they're bleeding to death.
But while these comedians are lauded for furthering feminist dialogue, similar conversations begun by female creative types outside the comedy world are less joyously received. Indeed, when women who are not comedians broach feminist issues in their work, they often are told to shut up or be "less angry" or even worse, threatened with violence. In the gaming industry, for example, outspoken female gamers are frequent targets for gendered threats. Most notably, Anita Sarkeesian has suffered relentless harassment because her YouTube series "Tropes vs. Women in Video Games" criticizes the industry's many layers of sexism. 
This is also true of women who use memoir to create a public dialogue about feminist issues. For example, Lena Dunham faced much criticism with the publication of Not That Kind of Girl last fall, from people complaining about the audacity of a 20-something woman writing about her life (replete with cries of "narcissism"), to misogyny-tinged judgments about her experience of rape. On social media, this criticism tended to overshadow the book's accomplishments — such as its attention to feminist issues like rape, body image and female friendship, not to mention the victory that a young woman was actually given the space to explore her subjectivity. In a previous piece, I classified this phenomenon as the Woody Allen Paradox, "or the fact that women aren't allowed to be introspective or to explore subjectivity in their art" without some kind of sexist backlash.
Perhaps this is why female comedians are so successful. Successful comedy, by its very definition, requires distance between the person and the art, while maintaining the illusion that there is none. Usually, feminist critique presented through comedy lands with audiences when it is not about the comedians themselves but rather their observations of sexism in the world: Take the aforementioned example of Fey and Poehler ribbing George Clooney, and, by association, patriarchal society, or Schumer calling out the sexist double-standard of not being able to say "pussy" on television.
Of course, female comedians are often subjected to gendered harassment as well. For example, Schumer, who often lambasts Hollywood's sexist body standards for women, recently was criticized for having a "chubby" body. 
But when it comes to feminism, these comedians prove that medium may be just as important as — if not more important than — message. Comedy is undeniably effective in bringing unmentionable and uncomfortable topics to light. At the same time, the fact that women must be funny — and not too serious or too angry — in order to serve their feminism suggests that society, while undoubtedly in a feminist revival, is not quite ready to face the issues tied to the movement directly. In other words, while many are in favor of Silverman cracking jokes about the wage gap, they're not ready to address the systemic inequalities that keep the wage gap in place. And they certainly don't like it when "angry" women attempt to address systemic inequalities in substantive ways, such as through policy or activism.
This reaction reflects the current state of feminism in society: easy to digest in some ways, such as under the guise of humor, but not in others. Our job, then, to advance the movement, is to sharpen other tools in the toolbox.