'Paper Towns' Is the New 'The Fault in Our Stars' (For Better or Worse)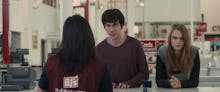 The first trailer premiered Thursday for Paper Towns, a film based on a young adult book about characters with names like Quentin Jacobsen and Margo Roth Spiegelman. The book is by author John Green, whose other, more famous book is about characters with names like Hazel Grace Lancaster and Augustus Waters. 
Like Green's previous novel adaptation, the massively successful The Fault in Our Stars, Paper Towns focuses on a central pair of teens whose lives are changed forever because they knew each other. They talk in phrases like, "My miracle is Margo Roth Spiegelman," and, "It's a paper town: paper houses and paper people." They exchange meaningful glances; Quentin talks dreamily about being in love.
The Paper Towns trailer makes it look much like The Fault in Our Stars, or even The Perks of Being a Wallflower, which is not a John Green book but shares much of its too-twee DNA. (Character names: Charlie Kelmeckis, Sam Pack. Inspirational phrase: "In that moment, we were infinite.") A sweet, doting brown-haired boy falls for a brunette, dreamy, just-out-of reach girl. But the girl is "broken" in some way: Hazel had cancer; Margo disappears. Luckily, she leaves clues for him to find her.
Some of the clues, like messages about Margo's worldview, have special meaning just for him.
And, of course, like in Perks of Being a Wallflower, there's a scene at a formal dance.
Paper Towns's trailer, with dim colors and soft voices, is playing into the YA model — hard. It is cute and sweet and cookie-cutter as can be. It will send teen girls on Tumblr into a reblogging frenzy. The trailer already has.
So how will it do? Does it matter that model Cara Delevingne is affecting a terrible American accent and can't quite act? Absolutely not. Does it matter that star Nat Wolff looks far less interesting here than he did in Gia Coppola's Palo Alto — or even in The Fault in Our Stars? Not at all. What matters is that this movie knows its audience. Green knows his audience.
Paper Towns may be formulaic, pandering or light. It probably will be all those things. But it is going to make tens of millions of dollars without breaking a sweat. That's a hard formula to argue with.