Here's What Young Women Really Think About Masturbating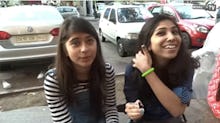 Masturbation: We all do it, but it's not something we always want to talk about in public. But maybe we should start.
This week, the YouTube channel Nisheeth TV wandered around the streets of New Delhi, approaching young women to talk about self-pleasure. Turns out the women had a lot of surprising, refreshing and healthy things to say about pleasuring themselves.
"Everybody does. It's a basic human need. It's very natural. Who doesn't?" says one young woman in the video. 
"I don't think it's any sort of sin to masturbate," says another woman.
When asked how frequently they pleasure themselves, the women in the video respond, "Sometimes," "Rarely" and "Whenever the mood strikes." 
Behind closed doors: While these young women are freely speaking up about sexuality, they're not necessarily the norm. Nisheeth TV had initially planned on interviewing both men and women on the topic, but realized while filming that the women they approached were far less open to talking about it than men. 
"We decided to make it a female-oriented video which could be an inspiration to all the girls out there who feel shy and are afraid to talk about self-pleasure," a representative from Nisheeth TV told Mic.
Finding women willing to talk wasn't easy. "This openness in pride in sexuality is not at all common for young women in Delhi," Nisheeth TV said. "They are afraid, feel shy and consider it a taboo talking about self-pleasure. That's why we had to approach hundreds of women to find these bunch of women who agreed to talk to us with this openness."
It's not a problem limited to India. In fact, a Pennsylvania State University study found that women are more likely than men to talk about every facet of sex except for masturbation. 
Long-lasting stigmas are at root of why some women never own up to or underreport their bedtime habits. "Stigma around female masturbation is part of a longer legacy of stigma against displays of autonomous female sexuality," Amber Jamilla Musser, a professor at Washington University in St. Louis, told Mic's Marcie Bianco. 
Women's masturbation habits were historically diagnosed as "female hysteria," implying that there's something inherently diseased with female sexual desire. That shame and sheepishness has held strong.
But let's face it, it's awesome: When the women in the video are asked to describe their first time, they only have glowing reviews. "It was amazing ... It was relieving, actually," says one woman. Most of the young women happily admit they watch porn to get themselves in the mood. "You can get excited watching something extremely hot," the same woman adds. 
By making this video, Nisheeth TV hopes "to change the mentality of people that talking about self-pleasure is not a taboo," they said. Regardless of any shame surrounding masturbation, at least 84.6% of women and 94.3% of men ages 25 to 29 have done it. No matter which way we package it, it's a healthy and normal reality — and it's one we can keep talking about.