How Does a Police Department Solve Misconduct Problems? By Pressing Backspace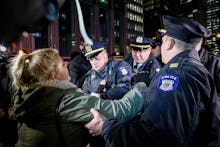 Police can edit Wikipedia too.
Officers from the New York Police Department and the San Diego Police Department were recently caught red-handed editing Wikipedia articles pertaining directly to those agencies' alleged abuses of citizens' rights.
In the NYPD's case, Capital New York reports that two officers were caught editing pages on the "Death of Eric Garner," "Stop-and-Frisk," "Sean Bell" and "Amadou Diallo" from police headquarters at 1 Police Plaza. NYPD IP addresses attempted to change the word "chokehold" to "respiratory distress" in the article concerning Eric Garner, a Staten Island man who died in July 2014 after officers wrapped their arms around his neck during an arrest. Someone at 1 Police Plaza also tried to delete the article on Sean Bell, who was shot four times in the neck and torso outside a Queens strip club by undercover officers in 2006.
Meanwhile, U-T San Diego reported that anonymous Wikipedia users and one San Diego police dispatcher "edited or deleted" paragraphs in the "misconduct" section of the San Diego department page using IP addresses assigned by the city to the police department.
In both cases, police officers or people who worked for the police departments deliberately excised or modified information that painted police in a bad light — something that Wikimedia Foundation senior communications manager Juliet Barbara told Mic in a statement probably would be considered "a conflict of interest by the Wikipedia community."
Both the NYPD and SDPD staff involved in the edits appear unlikely to face any real discipline.
SDPD Media Relations Unit's Lt. Scott Wahl told Mic in a statement that as the Wikipedia page is "not an SDPD or city-sponsored website, the department has no control" over changes made to it. He also said that no officers or other employees have been assigned editing the page as part of their duties, but that they will look into the incident as "appropriate."
An NYPD Public Information spokesman declined to comment over phone and did not return a follow-up email. However, NYPD Commissioner William Bratton recently said in a press conference that he didn't "anticipate any punishment, being quite frank with you, other than the admonishment advising them on department policy," although Mayor Bill de Blasio described the incidents as violations of city policies on computer use.
It's more than just digital vandalism. Wikipedia is one of the most-trafficked sites on the Internet, and queries on popular search engines almost inevitably lead to the site's pages. While the site's collaborative model is one of its core strengths, the latest incident is a reminder to be wary that some of Wikipedia's editors have hidden agendas.
More generally, Mic's Zak Cheney-Rice has pointed out the connection between the hundreds of edits being made to Wikipedia on a regular basis from 1 Police Plaza and the NYPD's flippant attitude towards criticism of its officers' conduct. As Cheney-Rice writes, the campaign to modify articles containing factual representations of allegations of police brutality privileges "a view of history that frames black lives as threatening, valueless and existing in opposition to the protagonist work of the police."
Whether it's angrily blaming the mayor and protesters for the behavior of individual criminals or launching an unofficial work slowdown to let the city know how aggrieved they are at even the slightest hint of misconduct, the NYPD and police union representatives have continually pretended that their critics are extremist liars interested in manipulating the facts to fit their agenda. At least a few people at 1 Police Plaza, however, seem to be pretty interested in doing just that.