The Ultimate Guide to Netflix, for the Couples Who Can't Stop Binge-Watching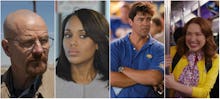 Thanks to Netflix, binge-watching has become a national pastime. The judgment around staying in on a Friday night has given way to a celebratory shamelessness about serial-watching TV as a valid weekend activity. In fact, a Netflix-sponsored survey found 73% of binge-watchers say they feel pretty great about it.
There are downsides to binge-watching, though. One study from the University of Texas at Austin found a link between binge-watching and feelings of depression and loneliness. Our obsessive watching isn't so unlike binge-eating or binge-drinking, it turns out — it can be a bad habit we rely on to avoid negative feelings.
But that's where the beauty of binge-watching as a couple comes in. Lonely and sad? A lot less likely when you're curled up with the couch with someone else. Joint binging has become a classic couple activity, even when you're physically apart, a problem solved by "co-watching," according to the New York Times.
The couple that watches together stays together. Here's the only Netflix guide you and your main squeeze will ever need.
When you need a reminder that every relationship has its own strange dynamic:
Sexy and diabolical, the relationship between Frank and Claire Underwood in season one of House of Cards, is one of twisted devotion, respect, attraction and undying trust. "You know what Francis said to me when he proposed?" asks Claire in episode six. "He said, 'Claire, if all you want is happiness, say no. I'm not gonna give you a couple of kids and count the days until retirement. I promise you freedom from that. I promise you'll never be bored.'" 
When you want to dig in for a long night on the couch: 
There's no show more intensely satisfying than Breaking Bad, and some of the most classic, series-defining moments come in season four. The season starts with a violent bang, then winds its way through 13 riveting episodes to a stunning conclusion. Don't turn it off before the epic episodes 11 through 13, described by Vulture's Matt Zoller Seitz as, "a self-contained unit — and a masterpiece of cinematic screw-tightening."
When you and your partner are feeling frisky:
Shonda Rhimes is the queen of plot twists and turns, but you've got to admit: Scandal is largely worth watching because of Fitz and Olivia's electric connection. When you and your S.O. are feeling in the mood, we recommend making the evening's selection season two, episodes one through eight of the political drama. You've got the pair's touching signature phone calls in episodes one and two, that tension-filled Oval Office scene in episode seven and the emotional roller coaster that is episode eight, "Happy Birthday, Mr. President" — from Fitz admitting he's in love to the shouting match in the Rose Garden to sex in the Oval Office.
When you could use a bit of excitement before someone passes out:
If you need just a morsel to enjoy at the end of the day, turn on Revenge season one, and enjoy the soapy fun of the first three episodes. It doesn't take long for a show like this to heat up, as evidenced by the action and suspense already brewing by episode three — plus, the stunning visuals like the scenery and the actors are easy on the eyes.
When you need to lighten a tense mood after a fight: 
Some of TV's most lighthearted love stories can be found in Parks and Recreation, specifically season three. Start with episode nine, in which April Ludgate and Andy Dwyer tie the knot; then jump your happy heart to episodes 14 through 16, when Leslie Knope and Ben Wyatt overcome their issues with a kiss and start dating. Their bonding over the death of Li'l Sebastian will renew your faith in love and put a smile on your face — in other words, the perfect couple watch when you could use to smooth things over.
If stress has you both craving the comfort of an old favorite:
The best part about Friday Night Lights is the gorgeous Coach Taylor (Kyle Chandler) and his equally gorgeous wife, Tami Taylor (Connie Britton). Seeing such a golden couple, not to mention the all-American football premise, is a source of comfort no matter how many times we watch the show. Tap into the nostalgia with season one, episodes 9 (Chandler is actually funny!) through at least episode 11, "Nevermind." The episode is classic "FNL," from its complex look at teen relationships to cooping with physical pain to betrayal in our closest relationships. 
When you want to sneak a few episodes on your own:
It only has one season out, but Unbreakable Kimmy Schmidt, which premiered March 6 on Netflix , is already clearly worth your while. The quick nature of the episodes and the lack of complicated plot twists makes it easy to sneak in a few while your significant other is, say, out of town on a business trip. Plus, you're going to need to get caught up to talk to coworkers about it — power through the first six episodes to get yourself oriented. 
Your co-watching can wait.