UVA Students Are Taking a Powerful Stand Against Racism and Police Brutality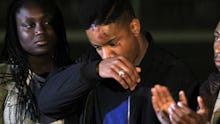 University of Virginia students took to the streets and campus thoroughfares Thursday night to protest after the brutal arrest of a black UVA student by state Department of Alcoholic Beverage Control officers outside a local bar.
According to USA Today, Thursday's protests over the treatment Martese Johnson received after he was confronted and violently subdued by ABC agents at Charlottesville's Trinity Irish Pub followed a Wednesday rally that drew more than 1,000 people.
While initial reports claimed that Johnson had presented a fake ID at the bar, his attorney Daniel Watkins contested those claims Thursday in a statement to ABC. A dramatic, bloody photo of Jackson's arrest by a white ABC officer, as well as video showing Johnson screaming "I go to UVA! ... You fucking racists! What the fuck? How did this happen?" inspired outrage across the UVA campus.
Amid calls for an investigation by campus administration and even Gov. Terry McAuliffe, demonstrators marched with placards bearing the slogans #BlackLivesMatter and #JusticeForMartese in solidarity with other victims of police violence. The tone of the protests echoed widespread frustration with law enforcement across the country following a year that saw hundreds of thousands of people turn out to decry the deaths of young black men like Mike Brown, Eric Garner, John Crawford III and 12-year-old Tamir Rice.
Others shared videos and a photo of Johnson taken well before the incident, proud of his entry to UVA and holding a sign to protest racism.
... as well as this gruesome before-and-after photo:
Johnson attended the first rally on Wednesday night. Watkins told the Charlottesville Daily Progress that the student's wounds had taken 10 stitches to close and that Johnson was "absolutely devastated," noting that his client had no prior arrest record despite being described by police as "very agitated and belligerent." CNN reports that the ABC is currently charging Johnson with public intoxication and obstruction of justice.
Trinity Irish Pub staffer Brendan O'Toole informed the Daily Progess that the ABC officers "instigated the whole thing." UVA student Bryan Beaubrun, who witnessed the incident, told the Associated Press that after Martese had been stopped by a bouncer while attempting to enter the bar, a state cop grabbed him by the arm and pulled him towards other officers. When Martese asked to be let go and pulled away, two cops wrestled him violently to the ground, causing the head injuries seen in the photo.
"We have not yet clarified all of the details surrounding this event, but we are seeking to do so as quickly as possible," UVA President Teresa Sullivan said in a statement. "Members of our community should feel safe from the threat of bodily harm and other forms of violence. Today, our community stands unified in our commitment to seeking the truth about this incident. And we stand united in our belief that equal treatment and equal justice are among our fundamental rights under the law."
It's not the first time that Charlottesville ABC officers have been accused of misconduct. According to the AP, the state of Virginia reached a $212,500 settlement in 2014 with a woman who was arrested by ABC agents who "mistook her just-purchased carton of sparkling water for beer." The plaintiff in that case, Elizabeth Daly, said that the plainclothes agents involved were not wearing visible badges and had jumped on her car while pulling guns. Daly was charged with assault after grazing the officers during her escape, though the felony charges were later dropped.