As 'Glee' Comes to an End, The Show Returns to Its Origins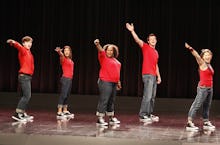 After six seasons, 728 musical performances to date and more cast members than one could possibly track, Glee comes to an end on Friday night. The two-hour finale, airing in the Friday night "death slot" to which it was banished by Fox after ratings plummeted last season, is actually two episodes, the latter of which promises to bring back almost every character in one giant number. That's the actual finale, and it will probably celebrate the excesses Glee became known for in its earlier seasons.
But the first hour, which was produced ahead of time and saved to air with the finale, is the exact opposite. It takes Glee back to its pilot in an episode called "2009," named for the show's premiere date. The episode was shown at PaleyFest's Glee panel last week, and the episode reportedly reframes the pilot with new footage and explains why New Directions's first members — Rachel (Lea Michele), Kurt (Chris Colfer), Artie (Kevin McHale), Tina (Jenna Ushkowitz) and Mercedes (Amber Riley) — joined the club. 
The choice to revisit its roots is an odd one. By pairing "2009" and the actual finale ("Dreams Come True"), Ryan Murphy and the rest of the crew seem to be acknowledging that Glee has always been two shows: the dark-but-hopeful musical comedy it promised in its pilot, and the extravagant, sometimes beautiful, often off-kilter mess it became.
Watching that pilot again, it's a shame how far Glee has fallen over the past six years. In the final number, the cast's iconic "Don't Stop Believin'" cover, the New Directions were rough, barely costumed and awkwardly choreographed. Yet they had so, so much heart. Glee was dorky, and it knew it — and celebrated it. "Being a part of something special makes you special," Rachel said, cementing the arc words of the uneven, yet winning and charming, first season.
Instead of retaining that scrappy underdog, however, Murphy and his team indulged in every bad instinct. They added more and more characters but didn't ever scale down the core group, thus dividing focus. It aired too many tribute episodes, brought on too many guest stars and screwed its character development arcs sideways just to fit the plot of each individual episode.
Perhaps most egregiously, in season four, Glee split into two storylines: Rachel and Kurt pursued their dreams of stardom in New York, while teacher Will Schuester (Matthew Morrison) and former student Finn Hudson (Cory Monteith) ran New Directions in Ohio. The show never quite recovered from that choice. The new glee club kids in Ohio suffered from limited exposure, and the New York plotlines, while interesting, weren't Glee. There were rumors at the time that the New York kids would be spun-off into their own show, but that never came to fruition.
Life gets in the way. Of course, Glee's most grievous wound wasn't a self-inflicted one. Monteith died of a drug overdose in July 2013, before the show's fifth season was set to start filming. It was a tragic loss not just for the show, but for the actors themselves: Michele and Monteith had been together for some time, and by all accounts, the cast was tight-knit. The effects permeated almost every aspect of the show. Faced with little to do on the Ohio front without Finn, Glee's glee club was dropped entirely, and the plot reverted entirely to Rachel's story in New York, starring in a Funny Girl Broadway revival.
This season, Rachel headed home to Lima, Ohio, to lead New Directions after failing in her professional life. All but one of the previous members had left, meaning a whole new crop of characters had to be introduced and given development at the same time as several of the glee club alumni and previous cast members came back for one more spell. The result was Rachel returning to Broadway, Kurt marrying his longstanding love Blaine (Darren Criss), two other gay glee club alums getting married (Santana and Brittany, played by Naya Rivera and Heather Morris) and other characters getting minor, individual resolutions.
That was not the original plan, of course. The plan was for Finn to take over glee club in season five, and season six would have been him growing into his own with his team. With Monteith's death, the plan had to be scrapped, and the show couldn't recover.
Thinking that Murphy and Co., who previously took the series far beyond its best self, would have stuck this landing is, perhaps, naive. But a creator should be able to finish their product the way they envisioned. Without Finn, the team tried their best, and season six has had its moments. But it was clearly time to let go, and the show ends Friday a sliver of a shadow of its former self.
It's difficult to argue that a show's later years shouldn't affect the memory of its earlier ones — a show is not its individual seasons, but its final product. Yet the greatest recommendation that could be given to a prospective viewer is to watch Glee's first 13 episodes and nothing more. In another universe, where Glee got canceled after its first half-season, the show would be remembered as a gone-too-soon treasure; fans would campaign ferociously to revive it on Netflix. Instead, even the show itself has to cash in on that pilot's nostaglia. Remember how good it was, they seem to request. Remember what it could have been.
Remember how good Glee was, the creators seem to ask. Remember what this could have been.
Back to the start: "2009" promises to be fascinating, if nothing else. How much will Murphy and his team's bad instincts taint that perfect hour of television in retrospect? Rumor has it that in the first draft, "2009" did not include Blaine; his character hadn't been introduced at the time, but according to PaleyFest viewers, he does appear in a two-ships-passing moment for Kurt. And, of course, there's the struggle of how to pay tribute to Finn. The episode reportedly ends with a replay of the pilot's "Don't Stop Believin'," which stars Finn front and center. What will be done when the character is supposed to be in certain shots?
Maybe the Glee team has come up with an elegant solution, but there's never been anything elegant about Glee. At its worst, it was inconsistent, maddening, slavish to its fanbase and indulgent to Murphy's whims. At its best, it was progressive, hilarious, inspiring and unabashedly queer. In that way, the double-play of "2009" and "Dreams Come True" might be the most fitting ending of all for Glee. It's going out as much of a Jekyll-and-Hyde show as it always has been. Fans likely wouldn't want it any other way.