UC Berkeley Students Are Fighting to Rename a Building After This Controversial Activist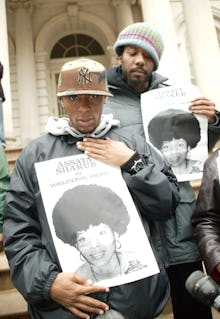 Do black lives matter enough to rename a building after an activist? If silence is any indication, apparently not.
Tired of feeling overlooked and disrespected by the campus community, University of California, Berkeley's Black Student Union recently issued a list of 10 demands to administrators meant to improve the university's racial acceptance and diversity. These included hiring more black administrators and creating an African-American resource center. But the most controversial request was that the campus building that "houses Ethnic Studies, Women's Studies and African-American Studies" be renamed in honor of black rights activist Assata Shakur, according to the San Francisco Chronicle.
The request drew ire from conservatives on social media, with Fox News publishing a histrionic piece decrying the students' desire to rename a building after a convicted criminal and "cop killer."
However, to UC Berkeley students and civil rights advocates, Shakur is no "cop killer." On the contrary, she was a powerful leader within the black rights movement of the 1970s who was unjustly served by America's criminal justice system. The fact that Shakur escaped prison has also established her as a kind of mythic icon of resilience for many who feel oppressed or marginalized by society.
Renaming a building after a black female icon like Shakur would not only emphasize that minority students' lives matter, but the memorialization of her name in stone would also represent that black history matters — and not just the black history sanctioned by white people. 
Who is Assata Shakur? Shakur, whose birth name, or what she calls her "slave name" is Joanne Deborah Chesimard and was the first woman named to the FBI's Most Wanted Terrorists list. Shakur was a member of the Black Panther Party and the Black Liberation Army in the early 1970s, and, like other women in this movement, actively fought for gender equality within the black community.
In 1973, Shakur and her friends were driving on the New Jersey Turnpike when they got into a shootout with police after a "routine" pullover. Shakur, who was shot three times, was convicted of killing the state trooper who died during the altercation. Two years into her sentence at a prison in New Jersey she escaped and fled to Cuba in 1979, where she has been granted political asylum ever since. 
Her innocence has been hotly debated over the past 40 years, with many activists and scholars, including Shakur herself, attesting the system unfairly targeted her for her political activism. The same holds true today, with Shakur now declared a "terrorist" with a $1 million bounty. Shakur's contemporary, activist Angela Davis, told Democracy Now! the FBI's classification itself "is designed to frighten people who are involved in struggles today." 
Davis continued, "Forty years ago seems like it was a long time ago. In the beginning of the 21st century, we're still fighting around the very same issues — police violence, health care, education, people in prison." 
Why Shakur's memorialization matters: Black students comprise a paltry 3% of the undergraduate student body at UC Berkeley, according to KGO-TV. These students crave representation and respect and want more than to hear that their lives matter — they want to see that they do. And one of the ways they can see this change happen is to have a building named after an "inept" white administrator rededicated to an activist who fought for civil rights for both women and minorities.
But UC Berkeley has largely ignored the pleas of black students for substantive discussions about race at the university. Chancellor Nicholas Dirks, Fox News reports, acknowledged the pervasive racial tensions on campus, describing the treatment of black students as "something we deplore." But as of the students' Tuesday's deadline, no demands had been met. 
"It troubles me that I have already been told countless times that antiblackness is not an issue to discuss within the context of the American political system," Cori McGowens, a member of the Black Students Union, told the San Francisco Chronicle. "My professors and graduate-student instructors have told me that I shouldn't bring up the politics of race and the reality of my black experience."
If college campuses aren't regarded as safe spaces for discussions about prevalent societal issues, like America's extant racial tensions, then where is? UC Berkeley students have a history of activism, and this incarnation is no different. Administrators need to listen and respond because activists are society's game-changers and should be celebrated instead of buried in the footnotes of history. 
Mic has reached out to Dirks, as well as the student leaders of UC Berkeley's Black Students Union for comment.