Kelly Clarkson's Mind-Blowing Cover of Tracy Chapman Is Exactly Why She's a Star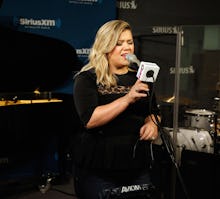 Kelly Clarkson can do no wrong. The empowered pop queen sang a cover of Tracy Chapman's "Give Me One Reason" for Sirius XM this week, and the reviews are in: Girl can sing the blues. 
The original version was written by singer-songwriter Chapman for her 1995 album, New Beginning. The song has been covered before; the most famous version is a Chapman duet with Eric Clapton. 
But Kelly Clarkson, in true American Idol fashion, absolutely owns it:
Clarkson sang for Sirius XM on the heels of Piece by Piece, the album she released in early March to rave reviews. The album has since reached No. 1 on the Billboard 200, with single "Heartbeat Song" rising through the charts.
In addition to being a seriously accomplished musician in her own right, Clarkson is also the master of the cover. During season one of American Idol, she sang covers including Etta James' "At Last," Dionne Warwick's "A Moment Like This" and Aretha Franklin's "Natural Woman." Those performances helped Clarkson earn the title of the first American Idol.
In October, she sang a cover of Sam Smith's "Stay With Me" to a live audience in Charlotte, North Carolina, and blew everyone away. Clarkson has also covered Adele, Justin Timberlake and even Eminem; that versatility is a testament to her amazing talent. "Give Me One Reason" is just the latest in a long line of stunning covers from the pop star.