Stunning Photos of Women in 37 Countries Prove Real Beauty Is All Over the Map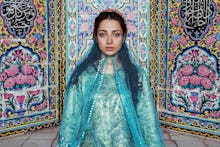 Mihaela Noroc is on a mission. The Romanian photographer has spent the last two years pushing back on limiting, Eurocentric beauty standards by traveling to 37 countries, capturing images of diverse women and sharing them with the world. She calls this project the "Atlas of Beauty."
Iran
Noroc's project is an important effort to reclaim the value of diversity in a global society increasingly influenced by a rigid, Western understanding of beauty. Many of her earlier images have already enchanted the Internet, but Noroc has taken to heart the constructive feedback she has received, such as a lack of age diversity. 
"I think it's my responsibility to make the 'Atlas' better and more comprehensive," she told Mic in an email, so that all viewers can "feel better in their own skin." 
Thailand
While her first trip around the world was self-funded and therefore short on time and money, Noroc is now turning to the Internet for help. She recently launched an Indiegogo campaign in order to raise enough funds to travel continuously for one year, according to the campaign's video. Noroc will explore "different continents, environments and ages," and will spend "more time in more countries, capturing more diversity" if she exceeds her fundraising goal.
Cuba
In the spirit of diversity and inclusion, Noroc will also allow those who fund her to vote for the countries and territories to which they want her to travel, and will plan her route based on the results. She hopes to publish a book and craft a documentary from footage filmed during her trip. 
"Together we can send an honest message to the world," she says in her fundraising video. "We can show that beauty is in our differences and we should all be proud of ourselves." 
Noroc in Bogotá, Colombia
Ecuador
Medellín, Colombia
Uzbekistan
Mawlamyine, Myanmar
Amazonian Rainforest
El Paico, Chile
Tibetan Plateau, China
Colca Valley, Peru
Yangon, Myanmar
Romania
New Zealand
Rio de Janeiro, Brazil
Sumatra, Indonesia