Blur's Bold New Song Proves That They're Still Legends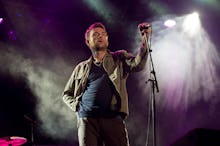 It's been nearly 12 years since Blur released their last full-length album. Now we're weeks away from the miraculous and unexpected release of The Magic Whip, the record that will break a silence that many thought would never end. 
On Friday, the band released a new single and music video. "There Are Too Many of Us" is classic Blur, and it proves they're still fully in control of their creative powers. This LP is going to be great.
The reverb-drenched melodies on "There Are Too Many of Us" evoke the bleary haze that characterizes Blur's sound, which made their earlier hits "Parklife" and "Song 2" such quintessential '90s Britpop. The recording process too was similar to their earliest work. "We didn't have much [equipment]," lead singer Damon Albarn told the BBC's Zane Lowe in a Facebook-streamed interview. "It was like back when we first started recording stuff."
They cut their upcoming album over the course of five days in a "hot room" in the densely packed urban sprawl of Hong Kong. The lyrics of "There Are Too Many of Us" do a lot to capture that setting. "Everything was related to being in that quite claustrophobic island with millions and millions of other people," Albarn told Lowe. "There's nothing pastoral about it. It's very much an urban record."
The album's cover shares this electric Hong Kong vibe. Blur's previous single, "Go Out," is set over a Chinese instructional video, showing viewers how to make ice cream.
Though Albarn has been cycling through a series of projects in recent years — releasing three Gorillaz albums, several collaborations and a debut solo project since Blur's last offering in 2003 — it's clear the band hasn't lost a beat. The Magic Whip drops in America on April 28.
h/t Pitchfork