21 Years After Nirvana, Here's Proof Dave Grohl Is the Last Great Rock Star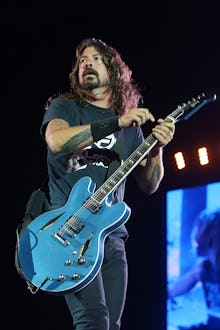 To hear Dave Grohl tell it, Foo Fighters — inarguably one of the most successful rock groups of all time — was an idea borne of desperation. In the spring of 1994, he was best known as the gangly, heavy-hitting drummer of Nirvana, the band that brought punk to the masses, "grunge" to MTV and the Seattle underground to the cover of Rolling Stone.  
But with the death of lead singer Kurt Cobain and the group's dissolution, the 25-year-old Grohl found himself tasked with re-establishing his own identity out of the shadow of the biggest band in the world. In the process, he cast a long shadow of his own. Equal parts brilliant writer, performer and preservationist, Dave Grohl is the last true ambassador of rock.
Rock star in his own right: With the end of Nirvana, Grohl lost his creative outlet. He found solace in the songs he had written between tours, went into a studio and emerged with an album's worth of tracks, performing vocals and all instruments. On July 4, 1995, the first Foo Fighters record was released. Grohl's determination to continue as a musician — his sole ambition since dropping out of high school to tour with hardcore band Scream — was reconfirmed, but not unchallenged.
"There were some people that really resented me for starting this band," Grohl reminisced in the 2011 Foo Fighters documentary Back and Forth. "The first couple of years, I really felt I had to explain and defend what I was doing. 'You're just a drummer. And, what, you're trying to sing? And also, you were in Nirvana, so what the fuck is this shit?'"
Twenty years on, Foo Fighters and Grohl have sold tens of millions of records, played some of the world's biggest stages and won 13 Grammy Awards. In doing so, Grohl has managed to accomplish exactly what he intended and forged his own identity.
Rock's preservationist: Now, at the height of his band's career, he's deliberately shifted his role in popular culture. He has perhaps become rock 'n' roll's most sincere and dedicated champion. In a musical climate that has proved increasingly inhospitable to rock 'n' roll — commercially and critically — he is often the first and loudest voice invoking the power of the garage band. His is the ever-smiling face of all things big and fast and loud, both elder statesman and forceful activist for the power of an increasingly irrelevant genre.
He's performed multiple times at the Kennedy Center Honors, playing tributes to Led Zeppelin and The Who. Nearly every year he can be found onstage at the Grammy Awards, a frequent presenter and performer when he isn't receiving a trophy. He's a trusted, dynamic source on music history, interviewed for rock documentaries on bands like The Descendents and music institutions like Tower Records. He delivered the keynote address at 2013's South by Southwest. Years before his own induction, he and Foo Fighters drummer Taylor Hawkins performed on Rush's behalf at the Rock and Roll Hall of Fame. He was even tapped to write the digital liner notes for a recent Beatles compilation. 
Most recently he was announced as 2015's Record Store Day Ambassador. This comes as little surprise, as Grohl can be considered an ambassador in more ways than one. "Promoting your album is one thing. Going out and promoting the idea of human beings playing music for the next generation, that's another," he told Billboard. "There are times when I feel like I'm a traveling minister. I'm trying to go out and get kids to pick up yard sale instruments and change the world."
To that end, the most recent phase of Grohl's career seems only logical. Whether he's profiling a legendary recording studio or penning a "love letter to the history of American music," he has proven himself a dedicated historian and an enthusiastic archivist. And as the undisputed Nicest Guy in Rock (who doesn't believe in guilty pleasures), he's brought an amazing cast of characters to the fore with him.
He's as likely to be in a supergroup with John Paul Jones as Lemmy; he's jammed with everyone from Tenacious D to Paul McCartney, Rick Springfield to Kim Gordon, Lee Ving to Stevie Nicks. Even Foo Fighters records have boasted guest appearances by former band mates and Grohl's heroes alike. Essentially, the last few years have seen him bringing rock history to the masses.
He combats the perception that rock 'n' roll is a fading, aging thing by vitally bridging the gap between the legacy set and the ever-changing, uncertain musical landscape of the here and now. And he's unafraid to hop behind the drum kit or the camera (or both) to make that happen. 
In terms of a legacy, this is where Grohl is now: conscious of a past learned from, but with an unwavering and ambitious gaze toward the future. "I've experienced great things, I've experienced great tragedies," he told Spin. "I've done almost everything I could possibly ever imagine doing, but I just know that there's more."