Take a Tour of the Nearly 10,000 Works of Street Art That Google Has Saved From Oblivion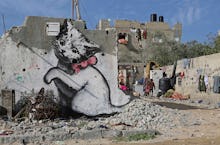 By its very nature, graffiti is an ephemeral art form. From the moment it's signed, the makers of street art face a countdown until their work is painted over, washed off, sprayed down the drain or marked over by the work of another artist. Whether it's the mark of a local tagger or a political masterpiece by Banksy, street art is perhaps the most impermanent artwork there is.
That's where Google comes in.
Google Art Project's Street Art has doubled its online archive of street art around the world to nearly 10,000 works. The project, which utilizes Google Street View to capture short-lived works of guerrilla art on five continents, allows for admirers around the world to appreciate pieces of highly localized artworks. Google's Street Art also pinpoints the exact location of street art for in-person admiration.
The stated aim of the street art is similar to that of museums around the world: the preservation of important works of art. While Monet's water lilies and Lichtenstein's crying women are being saved for public view from inadequate restoration and covetous collectors, the street art being preserved by Google is being saved from much more literal destruction. In late 2013, 5 Pointz, an abandoned factory building in Long Island City that was considered the mecca of graffiti, was painted over before being demolished to make way for luxury condominiums. 
The project even allows for your own curation. Google Street Art allows users to create collections of their own, both for public display or for personal inspiration. Below, a sample of some of the most popular works of guerrilla art saved by Google from ignominious ends at the hands of municipal sanitation workers.
It's a beautiful project — and an important one. Graffiti is likely the first art form ever created. In a world where our eyes and ears are constantly besieged by an involuntary influx of advertising and corporate communication, street art invades our viewspace with no ulterior motive beyond being appreciated. Graffiti is the ultimate expression of the democratization of artwork — a powerful platform for political expression that reaches the public where they are every day.
You can view the rest of the exhibitions here.