Designers Have Created a Device to Water Plants in the Middle of the Desert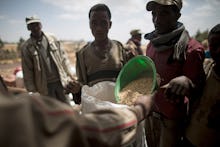 Sometimes, the technology required to solve a problem already exists — it just hasn't been used creatively.
In Ethiopia, where food insecurity remains a constant problem and just 25% of arable land is being cultivated, many farmers are forced to rely on rain-fed agriculture in the face of drought and soil degradation. To combat these problems, nonprofit Roots Up has developed an idea that might just be the perfect solution: A low-tech, cheap greenhouse that collects its own fresh water.
How it works: Inside the greenhouse, hot air is trapped throughout the day, causing the internal temperature to rise.
"The heat causes water to evaporate, creating air humidity making the greenhouse atmosphere better for plants' growth as well as maximising the dew harvest," Roots Up's Mathilde Richelet wrote in a post on the organization's website. 
At night, the farmer tugs on a rope opening the top of the greenhouse to the night air. The temperature change turns the humidity into clean water vapor that runs down a plastic sheet into a cistern. The clean water obtained can be used for things like drinking and irrigation.
According to Roots Up, the first series of Dew Collector greenhouses will be constructed in northern Ethiopia in conjunction with the University of Gondar.
A major problem: The World Food Programme estimates that as of June 2014, 2.7 million Ethiopians lived with "Crisis and Emergency" food security conditions. All told, the WFP reports that 6 million people required some form of food assistance that year thanks to an ongoing drought, the presence of about 650,000 refugees from neighboring countries and economic factors such as widespread poverty. 
While the country has made considerable progress in its quest to eliminate food scarcity, hunger remains a fact of life for many Ethiopians.
And that's just in one country. Food scarcity is an international problem that effects people around the world. According to the WFP, "there are 805 million undernourished people in the world today." Though this design project had Ethiopia specifically in mind, taking these kinds of projects to other parts of the world should be a priority for anyone trying to combat hunger.
A smart solution: Projects like Roots Up, which aims to train farmers on existing and affordable technologies and techniques to become self-reliant, could offer sustainable alternatives to expensive food aid programs. The eventual aim, according to their website, is to help farmers in North Gondar set up a lucrative agricultural business in temperate fruit trees.
However, the greenhouse is just one of a variety of solutions to problems experienced by farmers in the area, which Roots Up says include climatic conditions like drought, soil erosion and degradation and low yields for most crops. Other proposed projects include permaculture techniques, bio-gas production and eco-dome construction.
It's a nice reminder that big, flashy tech products and futuristic inventions usually get all the limelight, but relatively inexpensive and creative applications of existing technology can often make the biggest impact.
h/t Discovery