Watch Jack White and Robert Plant Rock Out Led Zeppelin's 'The Lemon Song' Live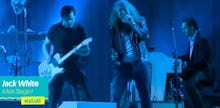 It's not every day you get to watch two of the greatest musicians of their generations come together for a live performance of one of the hardest rocking songs written by one of the hardest rocking bands of all time.
But that's exactly what happened at the Lollapalooza Argentina music festival Saturday, when Led Zeppelin frontman Robert Plant joined Jack White for what felt like a once-in-a-lifetime performance of Led Zeppelin's "The Lemon Song."
"The Lemon Song," a slow and heavy blue-driven rock track, was originally released on the band's 1969 sophomore album, Led Zeppelin II. White has previously performed the track on a few occasions, but Rolling Stone notes that, according to Setlist.fm, Saturday marks the first time Plant has performed the song live since he and Led Zeppelin guitarist/rock-god Jimmy Page did it in a one-off tour show in Norway in 1995.
While this may seem like a somewhat strange collaboration, White is well known for his musical preferences of very basic, even somewhat bare, rock that focuses on the fundamentals of good riffs and simple melodies — all things Led Zeppelin did very well — especially during his work with The White Stripes. He was also featured alongside Page in the 2008 rock documentary It Might Get Loud, so while White may not necessarily be in the same class of musicianship as Page, it's clear the two share many common musical inclinations. 
Plant is still touring and performing, though he has been adamantly against a Led Zeppelin reunion tour, despite Page's and bassist/keyboardist John Paul Jones' expressed interest. But the frontman has previously been very forward about his admiration for White. According to Rolling Stone, he once said in a Facebook chat that he loves "Jack White's buccaneer spirit, and the way he dodges through the musical horizons. I'd be happy to make a single with him."
This kind of performance truly reminds us how timeless music is. The fact that two musicians from different generations could come together and perform something like this is both amazing and inspiring. Some people say music isn't as good as it used to be, but as long as people like Jack White are working with luminaries like Robert Plant, we'll all be OK.
h/t Pitchfork