Ted Cruz Is Officially Running for President. Here's Why He Has Little Chance of Winning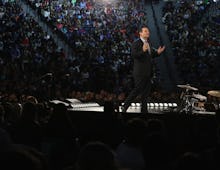 It started with a tweet. 
At 12:09 a.m. EDT, the deeply conservative, bombastic and confrontational junior senator from Texas, Ted Cruz, became the first Republican candidate to enter the 2016 presidential race. Cruz followed up his tweet by rolling out a new website and asking an audience of Liberty University students and faculty members in Lynchburg, Virginia, to "imagine in 2017 a new president signing legislation repealing every word of Obamacare."
"Imagine young people coming out of school with four, five, six job offers," Cruz said, pacing the arena-theater like a mega-church pastor at the school's weekly convocation ceremony, for which attendance is mandatory, according to the New York Times. "Imagine America finally becoming energy self-sufficient as millions of high-paying jobs are created!"
Early polling and a crowded field means Cruz likely needs nothing short of a minor miracle to win the nomination of the Republican Party, which has been hesitant to nominate his brand of hardline right-wingers. Candidates with pedigrees similar to Cruz's have mostly served as conservative scolds, policing establishment figures who veer too close to the political center. For all of Monday's pomp, this a fate Cruz will struggle to escape.
Cruz's plan: In 2016, the primary competition will come in all shapes and sizes — there is the party establishment favorite, former Florida Gov. Jeb Bush, and its breakout star, union-busting Wisconsin Gov. Scott Walker. Two of Cruz's Senate colleagues, Kentucky's Rand Paul and Florida's Marco Rubio, are expected to follow shortly behind, as will veteran candidate Rick Santorum, the GOP's foremost social conservative. New Jersey's blustering Gov. Chris Christie, despite some early stumbles, is primed to grab a lectern on what should be an entertaining and combative debate stage.
For Cruz, any hope of victory will hinge on winning two of the three early caucus and primary states, Iowa and South Carolina. By making this announcement at Liberty University, a massive Evangelical Christian school founded by the late Rev. Jerry Falwell in 1971, Cruz is dropping a heavy hint about how he intends to wage his campaign. A coalition of the religious right, fiscal conservatives and Republican fans of his quick-lipped rhetorical flourishes could put a charge into the upstart bid — one he'll need if he has any chance of dancing with Florida natives Bush and Rubio when the contest arrives in the Sunshine State.
The more likely scenario pits Cruz as a very entertaining spoiler. A sharp debater, he will challenge Bush and Rubio, both of whom have expressed support for comprehensive immigration reform, on their conservative credentials. Walker, who has shown himself to be a nimble and increasingly authoritative speaker, is ripe to be swatted around by the more seasoned Cruz in an unscripted setting. Likewise, Cruz will test the famously fragile patience of Christie and Paul, who has emerged as the Senator's early target.
Ted's talks: The Princeton- and Harvard-educated Cruz, a former Texas state solicitor general, was an unlikely pick to win his party's nomination for his current Senate seat in 2012. Since his arrival, he's earned a deserved reputation for enjoying the taste of the political scenery.
So it's little surprise that Cruz chose this date — March 23 — to make his formal announcement. It is the 5th anniversary of the passage of the Affordable Care Act, the health care overhaul Cruz has railed against almost unceasingly since his arrival in Washington, D.C. He gained a particular notoriety for his very long argument against the law, a 21-hour-and-19-minute stunt he carried out across two days in late September 2013 — a talk-a-thon that covered everything from substantive policy gripes to a reading of Dr. Seuss' Green Eggs and Ham. 
Cruz's test: But for all his preening, Cruz remains mostly unaccomplished in the Senate. He has staked out his claim as an opposition force to Obamacare, immigration reform and just about anything that comes from the White House or congressional Democrats. It's no disqualifier — Obama didn't do much in the Senate before jumping into the 2008 race — but Cruz, as a candidate again, will be challenged to sketch out solutions to the problems has he has documented with such glee over the past few years.
With his campaign now underway, and with a little more than nine months until the voting begins, Cruz will have every opportunity to flip the script.