Kerry Washington Gave a Powerful Speech About Equality — And We All Need to Listen Up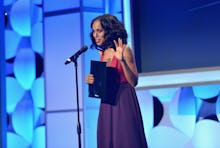 "We have been pitted against each other." 
During her powerful Vanguard Award acceptance speech at Saturday night's GLAAD Awards, Scandal star Kerry Washington nailed why political power so often remains in the hands of the few — that is, the white, the male, the 1%.
"Women, poor people, people of color, people with disabilities, immigrants, gay men, lesbians, bisexuals, trans people, inter-sex people — we have been pitted against each other and made to feel like there are limited seats at the table for those of us that fall into the category of 'other,'" she said at the ceremony in Los Angeles. 
"As a result, we have become afraid of one another. We compete with one another, we judge one another, sometimes we betray one another ... As 'others,' we are taught to be successful we must reject those 'other 'others' or we will never belong."
According to Washington, the solution is clear: We must stop fighting one another and band together to reach the goal of full equality. 
"We can't say that we believe in each other's fundamental humanity and then turn a blind eye to the reality of each other's existence and the truth of each other's hearts," she continued.
Girl, preach on to the citizens of Shondaland.
Washington makes a great point: The most effective way to keep people powerless and disenfranchised is to have them fight with each other. This keeps minority groups preoccupied, instead of banding together and doing some real damage to the systemic inequality that affects our nation.
Washington uses the example of marriage equality to illustrate how minority communities have been pitted against each other. She points to the fact that some in the black community believe "messages of hate" about LGBT individuals, rooted in the same prejudices that have been used to discriminate against black people. "When black people today tell me that they don't believe in gay marriage," she said, "I say ... 'You know people used to say that stuff about you and your love, and if we let the government start to legislate love in our lifetime, who do you think is next?'"
"We must be allies in this business," Washington continued, "because to be represented is to be humanized and as long as anyone, anywhere is made to feel less human, our very definition of humanity is at stake and we are all vulnerable."
Inclusive storytelling: "Having your story told as a woman, as a person of color, as a lesbian, or as a trans person, or as any member of any disenfranchised community is sadly often still a radical idea," Washington continued. Evoking Shonda Rhimes' philosophy of "normalizing" through representative characters, Washington urged the audience, most of whom work in media, "to continue to be bold and break new ground ... until we are no longer 'firsts and 'exceptions' and 'rare' and 'unique.'" 
"In the real world, being an 'other' is the norm," she said. "In the real world, the only norm is uniqueness, and our media must reflect that."
So far, it looks like Washington's call to action is making waves. The Internet has applauded her "stirring speech" for making people "stand up and cheer for equality" and "bringing us to our feet."
You can watch Olivia Pope rock the GLAAD Awards, in full, below: