The Story of How Rihanna Got Famous Will Make You Love Her Even More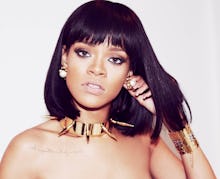 The odds against Rihanna would have discouraged a less headstrong woman. Her childhood was full of struggle and pain, abuse and drug use, poverty and illness. But at 16, her audition made even Jay Z take notice of the young Barbadian named Robyn Rihanna Fenton.
Nearly 10 years later, Rihanna has won eight Grammys, released seven albums (with an eighth rumored to drop soon) and earned a spot as the first female with four No. 1 hits on the Billboard Hot 100 in a single year. She's been on a hot streak as long as her own career. Just last week, she was named the first black spokeswoman for Dior. On Monday, Dreamworks released two Rihanna songs for the animated movie Home. She also provides the voice for the lead.
None of that came easily, though. A decade into her career, Rihanna's story is one of ferocious battles and hard-earned victory. 
A difficult family: Rihanna was born in Barbados in 1988 to Ronald Fenty, who ran a garment warehouse, and Monica Braithwaite, an accountant. Along with her younger brother, Rihanna grew up in a troubled home. Her father was an alcoholic and a crack addict; Rihanna recounted to Rolling Stone that he beat her mother and once hit her as well.
It was a constant source of stress in her life. When Rihanna was 8, she started suffering intense headaches that led a doctor to think she might have a tumor. But at 14, when her parents finally divorced after years of on-and-off separation, Rihanna's headaches stopped. After the divorce, Braithwaite worked full time and Rihanna took over as her younger brother's caretaker. 
"I grew up fast, kind of like the second mom," Rihanna told the Guardian. 
Discrimination: Though her home life improved, Rihanna was still bullied at school for her light complexion. Her father was descendant of a Barbadian-Irish group known as "Redlegs," a term used for poor, white residents of Barbados. According to Allure, Rihanna fought the kids in school who teased her for being too white; the bullying lent to Rihanna's reputation for being painfully shy. But she was tough too: As a teenager, Rihanna was in the army cadets and actually reached the rank of corporal. She was a self-proclaimed tomboy, and joined the cadets to show guys she was tough. Her drill sergeant was none other than fellow Barbadian pop singer Shontelle. 
"This thick skin has been developing since my first day at school," Rihanna told Harper's Bazaar. "It didn't happen after fame; I couldn't survive fame if I didn't already have it. So sometimes the toughest thing in life is to be vulnerable."
Her gift: Though she was shy, Rihanna won her high school beauty pageant at 15 for singing Mariah Carey's "Hero." She loved to sing so much — at the beach, at the club, around the house — that her neighbors called her "Robyn Red Breast." According to Rolling Stone, "She always knew she wanted to be a pop star." 
"I kind of laughed at these stupid pageants," she told the Daily Mail in 2007. "But my friends at school dared me to do it, and my military training came in handy for learning to balance books on my head for the catwalk."
Striking gold: Not long after winning that beauty pageant, a 16-year-old Rihanna caught the eye of a vacationing American record producer, Evan Rogers, during an audition organized by the producer. He knew he'd found someone big. Within months, Rihanna had left Barbados and moved into Rogers' Connecticut home with him and his wife. In Connecticut, Rogers and Rihanna recorded a demo featuring a version of "Pon de Replay." 
"When I left Barbados, I didn't look back," Rihanna told People magazine. "I wanted to do what I had to do, even [if] it meant moving to America."
Rogers sent the demo tape to labels around the country, and it landed on the desk of then-newly appointed Def Jam president Jay Z. At just 16 years old, Rihanna was summoned by the hip-hop legend to audition for a spot on the label. She performed Whitney Houston's "For the Love of You" at the Def Jam offices.
"I signed her in one day," Jay-Z told Rolling Stone. "It took me two minutes to see she was a star."
Sudden fame: In May 2005, four months after she signed to Def Jam, Rihanna released her first single, "Pon de Replay." The song peaked at No. 2 on the Billboard Hot 100, and helped put Rihanna's first album, Music of the Sun, on the map. Eight months later, she released A Girl Like Me, and in June 2007, Rihanna released "Umbrella," which reached No. 1 on the chart, making the singer a bona fide pop star off a song originally written for Mary J. Blige. It's hard to imagine anyone else doing it so well.
Today, Rihanna is 27, and from the looks of it, she's just getting started. Already a philanthropist, fashion icon and actor, she has overcome seemingly insurmountable odds to become one of the most powerful celebrities in the world.
"It's amazing how lonely you can feel and like nobody understands," Rihanna told Oprah. "The moment you are vulnerable, someone always reaches out. They go through the same things. I want them to feel comfortable knowing that I have flaws as well. I want them to know those flaws. I'm afraid of the pedestal. I want to be a peer to my fans." 
Rihanna's story is inspiring. It reveals that, when she hits those resilient notes, they're coming from an authentic place.