Why James Corden Has to Be Instantly Great on 'The Late Late Show'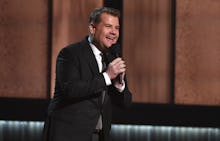 James Corden, the soon-to-be host of The Late Late Show, is under pressure. 
Any new host of a late night show would be, of course. But Corden, whose tenure starts Monday night, is not just a new late night host with a lot to prove. He's also got the pressure of a public that increasingly  says it wants non-white, non-male representation in late night. 
Corden, despite being an affable guy, is under that pressure more than any of the others. He's unproven in the format, unlike fellow hosts John Oliver and Stephen Colbert, so he'll have to prove himself fast — or risk looking like a waste of late night space.
James Corden is not John Oliver. In a sit-down interview with Salon, comedian Patton Oswalt pushed back against criticism of Last Week Tonight's host for being like almost every other late night host: white and male. That criticism, Oswalt said, stems from a real issue. But to criticize Oliver, who is nothing if not "revolutionary" in his comedy and a "champion" of minority groups, is wrong.
"It qualifies his triumph in what he does and it makes some people stop looking at the content of what is coming out of the face," Oswalt said. "All they're saying is, 'another white male,' and they take it down a couple notches."
He's right: That criticism of Oliver is unfair. Unlike Corden, Oliver has an established background. He worked for years as a correspondent on The Daily Show (and eventually as a replacement host) and developed a unique show and style. He was a shoo-in, and he's taken the opportunity and run with it to make one of, if not the best late night shows on television.
Corden has to prove himself too, but he's working on a significantly steeper learning curve. He's relaunching The Late Late Show based almost entirely on his personal brand, taking over the time slot from Craig Ferguson, who had to bat back rumors he was forced out of the job. Throw in his general lack of brand recognition in the United States — Corden is best known in his native U.K., but just had his biggest break in December's Into the Woods — and the stress is even more intense.
What's more, he hasn't paid his dues on American late night like Oliver. CBS choosing him felt a bit random at the time, particularly given the clamor for a less conventional choice. Corden was certainly unconventional, but not in the expected way.
James Corden is not John Oliver, and thus has more to prove.
There were so many other options. When David Letterman announced he was retiring from The Late Show, before Stephen Colbert was announced as his replacement, several names of non-white men circulated as possible successors. Colbert has also worked in late night for years, both on The Colbert Report and before as a correspondent on The Daily Show. He, like Oliver, was a common-sense choice, and so hopes turned to those same non-white, non-male options to fill Ferguson's seat.
Corden has a chance to prove himself, but he's got less time to do it. He can coast on his charm for only so long; if he's going to be in a late-night spot, a highly paid gig with an average salary of $10 million annually, when he's already seen as an odd choice, he'll need to be great to win the approval of critics and audiences alike.
That said, perhaps CBS knows exactly what it's doing with Corden. Colbert was a particularly strong grab in the late night reshuffle, and the English Corden recalls both the Scottish Ferguson and the amiable Jay Leno. Maybe they're gambling on the idea that America wants a female late night host in theory but not in practice. But against Seth Meyers over on NBC, wouldn't a more diverse choice work as a bit of counter-programming?
Monday is Corden's big debut, and the rest of the week is the full audition for America. By the end of it, we'll know if CBS's gamble was right — or if the calls for diversity should ring more loudly for those looking to fill Jon Stewart's seat.