Everything That You Wanted to Know About Ted Cruz But Were Too Afraid to Ask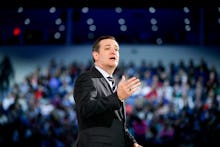 It's official: Sen. Ted Cruz is the first Republican to formally enter the 2016 presidential election. 
He made the announcement in a tweet just after midnight Monday, then in a more elaborate, stage-crafted speech later in the morning at Liberty University — home to more than 13,000 students — in Lynchburg, Virginia. With the exception of a trolling few who attended in their "I Stand With Rand" T-shirts, the young crowd represented one of the Republican primary season's most sought-after groups: young, religious conservatives. By this time next month, Cruz could have six or seven opponents vying for their attention. But for now, the junior senator from Texas is running a one-man race.
Before the rest of the field turns up and starts taking shots at one another, here is a primer on Cruz, from where he stands on the important issues like gay marriage and marijuana policy to some quirky details about his life, family and, yes, his nationality.
1. Cruz was born in Canada, but he can still be president. 
Federal law requires that the president be a "natural born citizen" of the United States. As we've learned all too well from the anti-Obama "birther" movement, there is a part of American society that is deeply suspicious of anyone they believe — even if what they believe is 100% wrong — to have been born abroad.
Unlike President Barack Obama, a Hawaii native, Cruz actually was born in other country: Canada. This has led some to question as to whether or not he can legally become president. The answer to those questions is yes, he can.
Cruz was born to an American mother and a Cuban father in Canada on Dec. 22, 1970. At the time of his birth, Cruz's father told NPR, Rafael Cruz held a U.S. green card, meaning he could legally reside and work in the country. Because of this and Cruz's mother having lived in the U.S. for a decade, five of those years after her 14th birthday, Cruz was born with dual citizenship, as stipulated by federal law.
This means Cruz fits the definition of "natural born citizen," as articulated in the U.S. Constitution, which qualifies him to become president.
And just to make his allegiance doubly, if unnecessarily clear, Cruz formally renounced his Canadian citizenship on May 14, 2014.
2. Cruz thinks the big decisions on weed policy should be left to the states.
Cruz's recent remarks on marijuana legalization at the Conservative Political Action Conference in February indicate that while he has no personal affection for marijuana, he believes states should be able to pursue legalization.
"I actually think this is a great embodiment of what Supreme Court Justice Louis Brandeis called 'the laboratories of democracy,'" Cruz said at CPAC. "If the citizens of Colorado decide they want to go down that road, that's their prerogative. I don't agree with it, but that's their right."
3. Cruz said a dozen Harvard Law School professors "were Marxists who believed in the communists overthrowing the United States government."
The story, as told by the New Yorker's Jane Mayer, goes something like this: A few weeks after Cruz was sworn in as the junior senator from Texas in 2013, he told a gathering of conservatives that "[t]here were fewer declared Republicans in the faculty when we were [at Harvard Law School] than communists! There was one Republican. But there were 12 who would say they were Marxists who believed in the communists overthrowing the United States government."
The New Yorker found one of those professors, a Republican former solicitor general for the Reagan administration named Charles Fried, who disputed Cruz's memory. He told Mayer there were at least "four 'out' Republicans" on the staff at the time Cruz was studying there. 
None of the others have ever been accused of supporting, intellectually or materially, a communist coup.
4. His father fought alongside Fidel Castro's revolutionaries in Cuba. 
Cruz's father fled Cuba in 1957, two years before Castro and his guerrilla army overthrew the right-wing, U.S.-backed dictator Fulgencio Batista. That is, Rafael Cruz didn't flee Castro — in fact, he fought on his side — but the Batista government, which imprisoned and tortured him, according to a 2013 NPR report. It wasn't until after he returned to visit Cuba in 1960 that he saw what life was like under the new dictator and began to rally support against his old ally.
The younger Cruz took some heat in late 2013 when, speaking to Fusion, he described Obama's handling of the implementation of health care reform as "dictatorial." Less than a day later, Cruz took a step back from the phrase, telling Politico, "Obviously, there are enormous differences; the United States is not imprisoning and torturing political dissidents."
5. Cruz believes all state gay marriage bans overturned by courts should be reinstated.
On Feb. 10, Cruz and 11 Senate colleagues began a new push for something called the State Marriage Defense Act. It's not a federal ban on same-sex marriage, but it would require that all state legislatures approve legalization. The net effect of the bill, if passed, would be to reinstate marriage bans and benefits in any state where equality was delivered by a judicial decision.
When the U.S. Supreme Court ruled in October 2014 that it would not hear appeals by states that had their marriage bans overturned by lower courts, Cruz was among the harshest critics of the decision, calling it "both tragic and indefensible." 
6. Cruz has no plan to help students struggling with college loan debt
In his speech Monday, Cruz reminisced about the six-figure loans he took out in order to pay his way through school: "[I] took over $100,000 in school loans, loans I suspect a lot of y'all can relate to, loans that I'll point out I just paid off a few years ago."
But the senator's own positions on student debt suggest that he has little interest in making it easier for younger generations, who face far more daunting prospects given the modern explosion in college tuition costs.
In 2012, he argued in favor of abolishing the Department of Education and having states take on the burden of handling student loan financing. In 2013, Cruz authored an amendment that would gave made repayment plans more punishing, reduced grants for low-income students and handed federal loans to private banks. He also voted against an amendment that would have limited interest rates on federal student loans. In 2014, he voted against legislation that would allow all borrowers to refinance their loans at lower interest rates.
7. Cruz is among the most vocal climate-change deniers in the government today.
The senator has a strong record of defying the global scientific consensus on climate change issues. On Late Night with Seth Meyers last week, after noting that he encountered snow and ice "everywhere" during a recent visit to New Hampshire, he embarked on a tour de force of climate-change denialism, suggesting that despite all the warnings, the world hasn't gotten hotter in 17 years.
It wasn't surprising — it's a claim he has made (and been mocked for) on a number of occasions before. Cruz's attitude toward climate change has not been without consequence: As the head of the Senate committee in charge of NASA funding, he pressured the agency to focus less on studying global warming and more on space exploration. Cruz has also pledged to oppose laws that increase the size of government in an effort to fight climate change. His voting record has demonstrated a staggering indifference to the environment and carbon emissions worries.
8. Of all the likely GOP candidates, Cruz is most staunchly opposed to immigration reform.
Cruz is widely considered to be the candidate most uncompromising in his opposition to immigration reform, arguing fiercely against a comprehensive package that would provide a path to legal status for undocumented immigrants. 
Last fall, Cruz helped lead the GOP's charge against Obama's executive actions to protect millions of people living in the country without permission from being deported. While other potential candidates like former Florida Gov. Jeb Bush, Florida Sen. Marco Rubio and Wisconsin Gov. Scott Walker have either openly supported or at one point considered providing those immigrants with a path to citizenship, Cruz has not shown any sign of scaling back his quest to rid the country of them. 
9. Cruz made his first appearance in the Washington Post at just 14 years old.
No, he wasn't calling out liberals or "mushy middle" Republicans. Cruz was actually in town for a Christian youth convention, according to a July 29, 1985, story in the Washington Post. But because of "explosions and fires" at the Washington Hilton, the young travelers — Cruz made the pilgrimage from Houston — were forced to resettle across the city.
"I'm just a little upset because I brought three changes of clothes and haven't been able to change yet," the 14-year-old future senator from Texas told the Washington Post.
Cruz would be mostly absent from the big city dailies for the next decade. He resurfaced in the Philadelphia Inquirer when his Harvard Law debate team fell in the semi-final of the 1995 World Universities Debating Championship.
Zeeshan Aleem contributed to this post.